WSL: Alessia Russo's injury-time header helped Manchester United recover from a second-half collapse to end Arsenal's perfect start to the season and draw level at the top after a thrilling 3-2 win at the Emirates Stadium, writes Suzanne Wrack.

","elementId":"90f5c07e-5ed8-46b2-a901-897b7b8576b9″},{"_type":"model.dotcomrendering.pageElements.RichLinkBlockElement","url":"https://www.theguardian.com/football/2022/nov/19/arsenal-manchester-united-womens-super-league-match-report","text":"Alessia Russo's injury-time strike gives Manchester United victory at Arsenal","prefix":"Related: ","role":"thumbnail","elementId":"dcb777b6-89b9-4c5c-9992-804ed78543b9″}],"attributes":{"pinned":false,"keyEvent":true,"abstract":false},"blockCreatedOn":1668888319000,"blockCreatedOnDisplay":"20.05 GMT","blockLastUpdated":1668888405000,"blockLastUpdatedDisplay":"20.06 GMT","blockFirstPublished":1668888406000,"blockFirstPublishedDisplay":"20.06 GMT","blockFirstPublishedDisplayNoTimezone":"20.06″,"title":"Match report: Arsenal 2-3 Manchester United","contributors":[],"primaryDateLine":"Sat 19 Nov 2022 20.07 GMT","secondaryDateLine":"First printed on Sat 19 Nov 2022 16.40 GMT"},{"id":"63792e658f088c5c8861204c","components":[{"_type":"model.dotcomrendering.pageElements.TextBlockElement","html":"

Peep! Peep! Peeeeeeep! It's all over at the Emirates Stadium, where Manchester United have won what turned out to be a thriller. Arsenal's 14-match WSL winning streak is brought to a very abrupt end in front of their own fans.

","elementId":"71196723-f951-404d-b40a-6e5c4219588d"}],"attributes":{"pinned":false,"keyEvent":true,"abstract":false},"blockCreatedOn":1668886117000,"blockCreatedOnDisplay":"19.28 GMT","blockLastUpdated":1668886210000,"blockLastUpdatedDisplay":"19.30 GMT","blockFirstPublished":1668886210000,"blockFirstPublishedDisplay":"19.30 GMT","blockFirstPublishedDisplayNoTimezone":"19.30″,"title":"Full time: Arsenal 2-3 Manchester United","contributors":[],"primaryDateLine":"Sat 19 Nov 2022 20.07 GMT","secondaryDateLine":"First printed on Sat 19 Nov 2022 16.40 GMT"},{"id":"63792c2b8f0874ab9710d64a","components":[{"_type":"model.dotcomrendering.pageElements.TextBlockElement","html":"

Scenes! From Katie Zelem's excellent corner, Alessia Russo rises to send a downward header into the bottom corner. Where was the Arsenal marking?!?!?!

","elementId":"1811ac63-b2ee-41bc-b650-56ec2a10f26c"},{"_type":"model.dotcomrendering.pageElements.ImageBlockElement","media":{"allImages":[{"index":0,"fields":{"height":"2100″,"width":"3500″},"mediaType":"Image","mimeType":"image/jpeg","url":"https://media.guim.co.uk/1e0405a2004fcd1d41cc56505c7e7169beaa418b/0_168_3500_2100/3500.jpg"},{"index":1,"fields":{"isMaster":"true","height":"2100″,"width":"3500″},"mediaType":"Image","mimeType":"image/jpeg","url":"https://media.guim.co.uk/1e0405a2004fcd1d41cc56505c7e7169beaa418b/0_168_3500_2100/master/3500.jpg"},{"index":2,"fields":{"height":"1200″,"width":"2000″},"mediaType":"Image","mimeType":"image/jpeg","url":"https://media.guim.co.uk/1e0405a2004fcd1d41cc56505c7e7169beaa418b/0_168_3500_2100/2000.jpg"},{"index":3,"fields":{"height":"600″,"width":"1000″},"mediaType":"Image","mimeType":"image/jpeg","url":"https://media.guim.co.uk/1e0405a2004fcd1d41cc56505c7e7169beaa418b/0_168_3500_2100/1000.jpg"},{"index":4,"fields":{"height":"300″,"width":"500″},"mediaType":"Image","mimeType":"image/jpeg","url":"https://media.guim.co.uk/1e0405a2004fcd1d41cc56505c7e7169beaa418b/0_168_3500_2100/500.jpg"},{"index":5,"fields":{"height":"84″,"width":"140″},"mediaType":"Image","mimeType":"image/jpeg","url":"https://media.guim.co.uk/1e0405a2004fcd1d41cc56505c7e7169beaa418b/0_168_3500_2100/140.jpg"}]},"information":{"alt":"Manchester United's Alessia Russo (second proper) celebrates with team-mates after scoring their aspect's third objective of the sport.","caption":"Manchester United's Alessia Russo (second proper) celebrates with team-mates after scoring their aspect's third objective of the sport.","credit score":"{Photograph}: Zac Goodwin/PA"},"displayCredit":true,"position":"inline","imageSources":[{"weighting":"inline","srcSet":[{"src":"https://i.guim.co.uk/img/media/1e0405a2004fcd1d41cc56505c7e7169beaa418b/0_168_3500_2100/master/3500.jpg?width=620&quality=85&auto=format&fit=max&s=bd81e91aeec7969efdb46974fbfef377″,"width":620},{"src":"https://i.guim.co.uk/img/media/1e0405a2004fcd1d41cc56505c7e7169beaa418b/0_168_3500_2100/master/3500.jpg?width=620&quality=45&auto=format&fit=max&dpr=2&s=19f29a813a1444e04369a76af81008af","width":1240},{"src":"https://i.guim.co.uk/img/media/1e0405a2004fcd1d41cc56505c7e7169beaa418b/0_168_3500_2100/master/3500.jpg?width=605&quality=85&auto=format&fit=max&s=ea381198a2491be7c28ca471b34071c9″,"width":605},{"src":"https://i.guim.co.uk/img/media/1e0405a2004fcd1d41cc56505c7e7169beaa418b/0_168_3500_2100/master/3500.jpg?width=605&quality=45&auto=format&fit=max&dpr=2&s=942612d343db4e0199a4409ac5acffab","width":1210},{"src":"https://i.guim.co.uk/img/media/1e0405a2004fcd1d41cc56505c7e7169beaa418b/0_168_3500_2100/master/3500.jpg?width=445&quality=85&auto=format&fit=max&s=2b93ac3c022bfdcbc696e599ffa7cab4″,"width":445},{"src":"https://i.guim.co.uk/img/media/1e0405a2004fcd1d41cc56505c7e7169beaa418b/0_168_3500_2100/master/3500.jpg?width=445&quality=45&auto=format&fit=max&dpr=2&s=ed0f7cfdfd1e2028b8d7a668d9451d28″,"width":890}]},{"weighting":"thumbnail","srcSet":[{"src":"https://i.guim.co.uk/img/media/1e0405a2004fcd1d41cc56505c7e7169beaa418b/0_168_3500_2100/master/3500.jpg?width=140&quality=85&auto=format&fit=max&s=4f297e4e3363bcfc7878194e835cd3b9″,"width":140},{"src":"https://i.guim.co.uk/img/media/1e0405a2004fcd1d41cc56505c7e7169beaa418b/0_168_3500_2100/master/3500.jpg?width=140&quality=45&auto=format&fit=max&dpr=2&s=3ef0bd41b3c5e919b0c4a1344f997adc","width":280},{"src":"https://i.guim.co.uk/img/media/1e0405a2004fcd1d41cc56505c7e7169beaa418b/0_168_3500_2100/master/3500.jpg?width=120&quality=85&auto=format&fit=max&s=0c985cba8a650042afab5e47f45bd9f3″,"width":120},{"src":"https://i.guim.co.uk/img/media/1e0405a2004fcd1d41cc56505c7e7169beaa418b/0_168_3500_2100/master/3500.jpg?width=120&quality=45&auto=format&fit=max&dpr=2&s=e47183faa78fa25f8c5289a1c177f63b","width":240}]},{"weighting":"supporting","srcSet":[{"src":"https://i.guim.co.uk/img/media/1e0405a2004fcd1d41cc56505c7e7169beaa418b/0_168_3500_2100/master/3500.jpg?width=380&quality=85&auto=format&fit=max&s=d41b1e853de760bbc911ea999885528e","width":380},{"src":"https://i.guim.co.uk/img/media/1e0405a2004fcd1d41cc56505c7e7169beaa418b/0_168_3500_2100/master/3500.jpg?width=380&quality=45&auto=format&fit=max&dpr=2&s=230938fff46b14dffc072f18fffa7294″,"width":760},{"src":"https://i.guim.co.uk/img/media/1e0405a2004fcd1d41cc56505c7e7169beaa418b/0_168_3500_2100/master/3500.jpg?width=300&quality=85&auto=format&fit=max&s=02954e7f3d42d08d1e1e92ee7270c053″,"width":300},{"src":"https://i.guim.co.uk/img/media/1e0405a2004fcd1d41cc56505c7e7169beaa418b/0_168_3500_2100/master/3500.jpg?width=300&quality=45&auto=format&fit=max&dpr=2&s=276d20be0d5c55e60e576494494e0711″,"width":600},{"src":"https://i.guim.co.uk/img/media/1e0405a2004fcd1d41cc56505c7e7169beaa418b/0_168_3500_2100/master/3500.jpg?width=620&quality=85&auto=format&fit=max&s=bd81e91aeec7969efdb46974fbfef377″,"width":620},{"src":"https://i.guim.co.uk/img/media/1e0405a2004fcd1d41cc56505c7e7169beaa418b/0_168_3500_2100/master/3500.jpg?width=620&quality=45&auto=format&fit=max&dpr=2&s=19f29a813a1444e04369a76af81008af","width":1240},{"src":"https://i.guim.co.uk/img/media/1e0405a2004fcd1d41cc56505c7e7169beaa418b/0_168_3500_2100/master/3500.jpg?width=605&quality=85&auto=format&fit=max&s=ea381198a2491be7c28ca471b34071c9″,"width":605},{"src":"https://i.guim.co.uk/img/media/1e0405a2004fcd1d41cc56505c7e7169beaa418b/0_168_3500_2100/master/3500.jpg?width=605&quality=45&auto=format&fit=max&dpr=2&s=942612d343db4e0199a4409ac5acffab","width":1210},{"src":"https://i.guim.co.uk/img/media/1e0405a2004fcd1d41cc56505c7e7169beaa418b/0_168_3500_2100/master/3500.jpg?width=445&quality=85&auto=format&fit=max&s=2b93ac3c022bfdcbc696e599ffa7cab4″,"width":445},{"src":"https://i.guim.co.uk/img/media/1e0405a2004fcd1d41cc56505c7e7169beaa418b/0_168_3500_2100/master/3500.jpg?width=445&quality=45&auto=format&fit=max&dpr=2&s=ed0f7cfdfd1e2028b8d7a668d9451d28″,"width":890}]},{"weighting":"showcase","srcSet":[{"src":"https://i.guim.co.uk/img/media/1e0405a2004fcd1d41cc56505c7e7169beaa418b/0_168_3500_2100/master/3500.jpg?width=860&quality=85&auto=format&fit=max&s=6337259db79fafe9b7307aa152e9b6aa","width":860},{"src":"https://i.guim.co.uk/img/media/1e0405a2004fcd1d41cc56505c7e7169beaa418b/0_168_3500_2100/master/3500.jpg?width=860&quality=45&auto=format&fit=max&dpr=2&s=0ad45a1dc6dcd510d534459eea60c757″,"width":1720},{"src":"https://i.guim.co.uk/img/media/1e0405a2004fcd1d41cc56505c7e7169beaa418b/0_168_3500_2100/master/3500.jpg?width=780&quality=85&auto=format&fit=max&s=b09e2a571524316552ba1e408bff2e05″,"width":780},{"src":"https://i.guim.co.uk/img/media/1e0405a2004fcd1d41cc56505c7e7169beaa418b/0_168_3500_2100/master/3500.jpg?width=780&quality=45&auto=format&fit=max&dpr=2&s=fcd44e8f5a3c05fc58c09f58f68954b8″,"width":1560},{"src":"https://i.guim.co.uk/img/media/1e0405a2004fcd1d41cc56505c7e7169beaa418b/0_168_3500_2100/master/3500.jpg?width=620&quality=85&auto=format&fit=max&s=bd81e91aeec7969efdb46974fbfef377″,"width":620},{"src":"https://i.guim.co.uk/img/media/1e0405a2004fcd1d41cc56505c7e7169beaa418b/0_168_3500_2100/master/3500.jpg?width=620&quality=45&auto=format&fit=max&dpr=2&s=19f29a813a1444e04369a76af81008af","width":1240},{"src":"https://i.guim.co.uk/img/media/1e0405a2004fcd1d41cc56505c7e7169beaa418b/0_168_3500_2100/master/3500.jpg?width=605&quality=85&auto=format&fit=max&s=ea381198a2491be7c28ca471b34071c9″,"width":605},{"src":"https://i.guim.co.uk/img/media/1e0405a2004fcd1d41cc56505c7e7169beaa418b/0_168_3500_2100/master/3500.jpg?width=605&quality=45&auto=format&fit=max&dpr=2&s=942612d343db4e0199a4409ac5acffab","width":1210},{"src":"https://i.guim.co.uk/img/media/1e0405a2004fcd1d41cc56505c7e7169beaa418b/0_168_3500_2100/master/3500.jpg?width=445&quality=85&auto=format&fit=max&s=2b93ac3c022bfdcbc696e599ffa7cab4″,"width":445},{"src":"https://i.guim.co.uk/img/media/1e0405a2004fcd1d41cc56505c7e7169beaa418b/0_168_3500_2100/master/3500.jpg?width=445&quality=45&auto=format&fit=max&dpr=2&s=ed0f7cfdfd1e2028b8d7a668d9451d28″,"width":890}]},{"weighting":"halfwidth","srcSet":[{"src":"https://i.guim.co.uk/img/media/1e0405a2004fcd1d41cc56505c7e7169beaa418b/0_168_3500_2100/master/3500.jpg?width=620&quality=85&auto=format&fit=max&s=bd81e91aeec7969efdb46974fbfef377″,"width":620},{"src":"https://i.guim.co.uk/img/media/1e0405a2004fcd1d41cc56505c7e7169beaa418b/0_168_3500_2100/master/3500.jpg?width=620&quality=45&auto=format&fit=max&dpr=2&s=19f29a813a1444e04369a76af81008af","width":1240},{"src":"https://i.guim.co.uk/img/media/1e0405a2004fcd1d41cc56505c7e7169beaa418b/0_168_3500_2100/master/3500.jpg?width=605&quality=85&auto=format&fit=max&s=ea381198a2491be7c28ca471b34071c9″,"width":605},{"src":"https://i.guim.co.uk/img/media/1e0405a2004fcd1d41cc56505c7e7169beaa418b/0_168_3500_2100/master/3500.jpg?width=605&quality=45&auto=format&fit=max&dpr=2&s=942612d343db4e0199a4409ac5acffab","width":1210},{"src":"https://i.guim.co.uk/img/media/1e0405a2004fcd1d41cc56505c7e7169beaa418b/0_168_3500_2100/master/3500.jpg?width=445&quality=85&auto=format&fit=max&s=2b93ac3c022bfdcbc696e599ffa7cab4″,"width":445},{"src":"https://i.guim.co.uk/img/media/1e0405a2004fcd1d41cc56505c7e7169beaa418b/0_168_3500_2100/master/3500.jpg?width=445&quality=45&auto=format&fit=max&dpr=2&s=ed0f7cfdfd1e2028b8d7a668d9451d28″,"width":890}]},{"weighting":"immersive","srcSet":[{"src":"https://i.guim.co.uk/img/media/1e0405a2004fcd1d41cc56505c7e7169beaa418b/0_168_3500_2100/master/3500.jpg?width=1900&quality=85&auto=format&fit=max&s=9c77330ae06e16a28e948798383b0d3f","width":1900},{"src":"https://i.guim.co.uk/img/media/1e0405a2004fcd1d41cc56505c7e7169beaa418b/0_168_3500_2100/master/3500.jpg?width=1900&quality=45&auto=format&fit=max&dpr=2&s=033eb1decbd0fe718133c37e6f7fd8c5″,"width":3800},{"src":"https://i.guim.co.uk/img/media/1e0405a2004fcd1d41cc56505c7e7169beaa418b/0_168_3500_2100/master/3500.jpg?width=1300&quality=85&auto=format&fit=max&s=8b9ed1d61e108f6956fc6f38707186f4″,"width":1300},{"src":"https://i.guim.co.uk/img/media/1e0405a2004fcd1d41cc56505c7e7169beaa418b/0_168_3500_2100/master/3500.jpg?width=1300&quality=45&auto=format&fit=max&dpr=2&s=f41c43ac0eee8a5e49c2de1987d0d343″,"width":2600},{"src":"https://i.guim.co.uk/img/media/1e0405a2004fcd1d41cc56505c7e7169beaa418b/0_168_3500_2100/master/3500.jpg?width=1140&quality=85&auto=format&fit=max&s=4e2d7cdb81bb68df5f0a6c757bb3e801″,"width":1140},{"src":"https://i.guim.co.uk/img/media/1e0405a2004fcd1d41cc56505c7e7169beaa418b/0_168_3500_2100/master/3500.jpg?width=1140&quality=45&auto=format&fit=max&dpr=2&s=b233c82a9b68ac2a06ca64aa62004895″,"width":2280},{"src":"https://i.guim.co.uk/img/media/1e0405a2004fcd1d41cc56505c7e7169beaa418b/0_168_3500_2100/master/3500.jpg?width=980&quality=85&auto=format&fit=max&s=ee1ce7f1138f10e801fc1012574bede8″,"width":980},{"src":"https://i.guim.co.uk/img/media/1e0405a2004fcd1d41cc56505c7e7169beaa418b/0_168_3500_2100/master/3500.jpg?width=980&quality=45&auto=format&fit=max&dpr=2&s=3c24933f5c9f8d746f90b81a8fe40b2a","width":1960},{"src":"https://i.guim.co.uk/img/media/1e0405a2004fcd1d41cc56505c7e7169beaa418b/0_168_3500_2100/master/3500.jpg?width=740&quality=85&auto=format&fit=max&s=4f7f433aef1b14082f6e184be5ade547″,"width":740},{"src":"https://i.guim.co.uk/img/media/1e0405a2004fcd1d41cc56505c7e7169beaa418b/0_168_3500_2100/master/3500.jpg?width=740&quality=45&auto=format&fit=max&dpr=2&s=7b7ff214de954dd260b2fed1d15ea257″,"width":1480},{"src":"https://i.guim.co.uk/img/media/1e0405a2004fcd1d41cc56505c7e7169beaa418b/0_168_3500_2100/master/3500.jpg?width=660&quality=85&auto=format&fit=max&s=46c667eabc32391be62fc8de5e1eaa8d","width":660},{"src":"https://i.guim.co.uk/img/media/1e0405a2004fcd1d41cc56505c7e7169beaa418b/0_168_3500_2100/master/3500.jpg?width=660&quality=45&auto=format&fit=max&dpr=2&s=7f2eede3f05fa26d51d9f9618637c01a","width":1320},{"src":"https://i.guim.co.uk/img/media/1e0405a2004fcd1d41cc56505c7e7169beaa418b/0_168_3500_2100/master/3500.jpg?width=480&quality=85&auto=format&fit=max&s=d2a4220f83f940eb9f76b313ef33c75a","width":480},{"src":"https://i.guim.co.uk/img/media/1e0405a2004fcd1d41cc56505c7e7169beaa418b/0_168_3500_2100/master/3500.jpg?width=480&quality=45&auto=format&fit=max&dpr=2&s=bf97d2f57cd9954fec7d9a826228dbec","width":960}]}],"elementId":"81e396d3-1a5c-4f4e-99f5-dd1cb9aed70b"}],"attributes":{"pinned":false,"keyEvent":true,"abstract":false},"blockCreatedOn":1668885547000,"blockCreatedOnDisplay":"19.19 GMT","blockLastUpdated":1668888453000,"blockLastUpdatedDisplay":"20.07 GMT","blockFirstPublished":1668885633000,"blockFirstPublishedDisplay":"19.20 GMT","blockFirstPublishedDisplayNoTimezone":"19.20″,"title":"GOAL! Arsenal 2-3 Manchester United (Russo 90+1)","contributors":[],"primaryDateLine":"Sat 19 Nov 2022 20.07 GMT","secondaryDateLine":"First printed on Sat 19 Nov 2022 16.40 GMT"},{"id":"63792ac58f0874ab9710d639″,"components":[{"_type":"model.dotcomrendering.pageElements.TextBlockElement","html":"

United equalise! From the free-kick, Zelem sends a wonderful delivery into the corridor of uncertainty and Millie Turner heads home off the crossbar from about two yards out.

","elementId":"8c3eb451-294d-416e-a4e7-142d47cacaad"},{"_type":"model.dotcomrendering.pageElements.ImageBlockElement","media":{"allImages":[{"index":0,"fields":{"height":"2498″,"width":"4164″},"mediaType":"Image","mimeType":"image/jpeg","url":"https://media.guim.co.uk/baf44e24e0d409a278194df596a8149c3285c639/0_118_4164_2498/4164.jpg"},{"index":1,"fields":{"isMaster":"true","height":"2498″,"width":"4164″},"mediaType":"Image","mimeType":"image/jpeg","url":"https://media.guim.co.uk/baf44e24e0d409a278194df596a8149c3285c639/0_118_4164_2498/master/4164.jpg"},{"index":2,"fields":{"height":"1200″,"width":"2000″},"mediaType":"Image","mimeType":"image/jpeg","url":"https://media.guim.co.uk/baf44e24e0d409a278194df596a8149c3285c639/0_118_4164_2498/2000.jpg"},{"index":3,"fields":{"height":"600″,"width":"1000″},"mediaType":"Image","mimeType":"image/jpeg","url":"https://media.guim.co.uk/baf44e24e0d409a278194df596a8149c3285c639/0_118_4164_2498/1000.jpg"},{"index":4,"fields":{"height":"300″,"width":"500″},"mediaType":"Image","mimeType":"image/jpeg","url":"https://media.guim.co.uk/baf44e24e0d409a278194df596a8149c3285c639/0_118_4164_2498/500.jpg"},{"index":5,"fields":{"height":"84″,"width":"140″},"mediaType":"Image","mimeType":"image/jpeg","url":"https://media.guim.co.uk/baf44e24e0d409a278194df596a8149c3285c639/0_118_4164_2498/140.jpg"}]},"information":{"alt":"Millie Turner of Manchester United scores her crew's second objective.","caption":"Millie Turner of Manchester United scores her crew's second objective.","credit score":"{Photograph}: Harriet Lander/Getty Photographs"},"displayCredit":true,"position":"inline","imageSources":[{"weighting":"inline","srcSet":[{"src":"https://i.guim.co.uk/img/media/baf44e24e0d409a278194df596a8149c3285c639/0_118_4164_2498/master/4164.jpg?width=620&quality=85&auto=format&fit=max&s=2f76f69f5dbf79007286fe76a9668f22″,"width":620},{"src":"https://i.guim.co.uk/img/media/baf44e24e0d409a278194df596a8149c3285c639/0_118_4164_2498/master/4164.jpg?width=620&quality=45&auto=format&fit=max&dpr=2&s=9526a6e16b981d45a31f29274ef41923″,"width":1240},{"src":"https://i.guim.co.uk/img/media/baf44e24e0d409a278194df596a8149c3285c639/0_118_4164_2498/master/4164.jpg?width=605&quality=85&auto=format&fit=max&s=948519f89f2cd0758919a3099cbb7677″,"width":605},{"src":"https://i.guim.co.uk/img/media/baf44e24e0d409a278194df596a8149c3285c639/0_118_4164_2498/master/4164.jpg?width=605&quality=45&auto=format&fit=max&dpr=2&s=597d0d8e1e4c3fdadff84e528c973dfe","width":1210},{"src":"https://i.guim.co.uk/img/media/baf44e24e0d409a278194df596a8149c3285c639/0_118_4164_2498/master/4164.jpg?width=445&quality=85&auto=format&fit=max&s=da6966bbe2f5ec3ef5df03ad3b3dea89″,"width":445},{"src":"https://i.guim.co.uk/img/media/baf44e24e0d409a278194df596a8149c3285c639/0_118_4164_2498/master/4164.jpg?width=445&quality=45&auto=format&fit=max&dpr=2&s=1c99135160df4cb4484b43b0fb36cdeb","width":890}]},{"weighting":"thumbnail","srcSet":[{"src":"https://i.guim.co.uk/img/media/baf44e24e0d409a278194df596a8149c3285c639/0_118_4164_2498/master/4164.jpg?width=140&quality=85&auto=format&fit=max&s=3035e36ce579388bb3f031b8ad50591c","width":140},{"src":"https://i.guim.co.uk/img/media/baf44e24e0d409a278194df596a8149c3285c639/0_118_4164_2498/master/4164.jpg?width=140&quality=45&auto=format&fit=max&dpr=2&s=fadbacca5d7acfc283bce03e7773091d","width":280},{"src":"https://i.guim.co.uk/img/media/baf44e24e0d409a278194df596a8149c3285c639/0_118_4164_2498/master/4164.jpg?width=120&quality=85&auto=format&fit=max&s=78ae7e97828b4fe0ada7cfddf8b5d798″,"width":120},{"src":"https://i.guim.co.uk/img/media/baf44e24e0d409a278194df596a8149c3285c639/0_118_4164_2498/master/4164.jpg?width=120&quality=45&auto=format&fit=max&dpr=2&s=b99579404f307d474e9386ca9f6e23b3″,"width":240}]},{"weighting":"supporting","srcSet":[{"src":"https://i.guim.co.uk/img/media/baf44e24e0d409a278194df596a8149c3285c639/0_118_4164_2498/master/4164.jpg?width=380&quality=85&auto=format&fit=max&s=721bffe067843c08d3141ef7f7c4f85a","width":380},{"src":"https://i.guim.co.uk/img/media/baf44e24e0d409a278194df596a8149c3285c639/0_118_4164_2498/master/4164.jpg?width=380&quality=45&auto=format&fit=max&dpr=2&s=1f74427d0e3ed427b2afeb3793219896″,"width":760},{"src":"https://i.guim.co.uk/img/media/baf44e24e0d409a278194df596a8149c3285c639/0_118_4164_2498/master/4164.jpg?width=300&quality=85&auto=format&fit=max&s=427fd238587c020b73c3b2031c530c30″,"width":300},{"src":"https://i.guim.co.uk/img/media/baf44e24e0d409a278194df596a8149c3285c639/0_118_4164_2498/master/4164.jpg?width=300&quality=45&auto=format&fit=max&dpr=2&s=ccb2830572fff917d0e0f8c072aa4f05″,"width":600},{"src":"https://i.guim.co.uk/img/media/baf44e24e0d409a278194df596a8149c3285c639/0_118_4164_2498/master/4164.jpg?width=620&quality=85&auto=format&fit=max&s=2f76f69f5dbf79007286fe76a9668f22″,"width":620},{"src":"https://i.guim.co.uk/img/media/baf44e24e0d409a278194df596a8149c3285c639/0_118_4164_2498/master/4164.jpg?width=620&quality=45&auto=format&fit=max&dpr=2&s=9526a6e16b981d45a31f29274ef41923″,"width":1240},{"src":"https://i.guim.co.uk/img/media/baf44e24e0d409a278194df596a8149c3285c639/0_118_4164_2498/master/4164.jpg?width=605&quality=85&auto=format&fit=max&s=948519f89f2cd0758919a3099cbb7677″,"width":605},{"src":"https://i.guim.co.uk/img/media/baf44e24e0d409a278194df596a8149c3285c639/0_118_4164_2498/master/4164.jpg?width=605&quality=45&auto=format&fit=max&dpr=2&s=597d0d8e1e4c3fdadff84e528c973dfe","width":1210},{"src":"https://i.guim.co.uk/img/media/baf44e24e0d409a278194df596a8149c3285c639/0_118_4164_2498/master/4164.jpg?width=445&quality=85&auto=format&fit=max&s=da6966bbe2f5ec3ef5df03ad3b3dea89″,"width":445},{"src":"https://i.guim.co.uk/img/media/baf44e24e0d409a278194df596a8149c3285c639/0_118_4164_2498/master/4164.jpg?width=445&quality=45&auto=format&fit=max&dpr=2&s=1c99135160df4cb4484b43b0fb36cdeb","width":890}]},{"weighting":"showcase","srcSet":[{"src":"https://i.guim.co.uk/img/media/baf44e24e0d409a278194df596a8149c3285c639/0_118_4164_2498/master/4164.jpg?width=860&quality=85&auto=format&fit=max&s=56f74c0a89d13652fba012fdb06c2983″,"width":860},{"src":"https://i.guim.co.uk/img/media/baf44e24e0d409a278194df596a8149c3285c639/0_118_4164_2498/master/4164.jpg?width=860&quality=45&auto=format&fit=max&dpr=2&s=36b112ebd86db7b9b50f746e9d5f9870″,"width":1720},{"src":"https://i.guim.co.uk/img/media/baf44e24e0d409a278194df596a8149c3285c639/0_118_4164_2498/master/4164.jpg?width=780&quality=85&auto=format&fit=max&s=be2c2a55a2a4fa04d30ee1d0ef989a18″,"width":780},{"src":"https://i.guim.co.uk/img/media/baf44e24e0d409a278194df596a8149c3285c639/0_118_4164_2498/master/4164.jpg?width=780&quality=45&auto=format&fit=max&dpr=2&s=e9385ffddbc051293cc1d90253f76ced","width":1560},{"src":"https://i.guim.co.uk/img/media/baf44e24e0d409a278194df596a8149c3285c639/0_118_4164_2498/master/4164.jpg?width=620&quality=85&auto=format&fit=max&s=2f76f69f5dbf79007286fe76a9668f22″,"width":620},{"src":"https://i.guim.co.uk/img/media/baf44e24e0d409a278194df596a8149c3285c639/0_118_4164_2498/master/4164.jpg?width=620&quality=45&auto=format&fit=max&dpr=2&s=9526a6e16b981d45a31f29274ef41923″,"width":1240},{"src":"https://i.guim.co.uk/img/media/baf44e24e0d409a278194df596a8149c3285c639/0_118_4164_2498/master/4164.jpg?width=605&quality=85&auto=format&fit=max&s=948519f89f2cd0758919a3099cbb7677″,"width":605},{"src":"https://i.guim.co.uk/img/media/baf44e24e0d409a278194df596a8149c3285c639/0_118_4164_2498/master/4164.jpg?width=605&quality=45&auto=format&fit=max&dpr=2&s=597d0d8e1e4c3fdadff84e528c973dfe","width":1210},{"src":"https://i.guim.co.uk/img/media/baf44e24e0d409a278194df596a8149c3285c639/0_118_4164_2498/master/4164.jpg?width=445&quality=85&auto=format&fit=max&s=da6966bbe2f5ec3ef5df03ad3b3dea89″,"width":445},{"src":"https://i.guim.co.uk/img/media/baf44e24e0d409a278194df596a8149c3285c639/0_118_4164_2498/master/4164.jpg?width=445&quality=45&auto=format&fit=max&dpr=2&s=1c99135160df4cb4484b43b0fb36cdeb","width":890}]},{"weighting":"halfwidth","srcSet":[{"src":"https://i.guim.co.uk/img/media/baf44e24e0d409a278194df596a8149c3285c639/0_118_4164_2498/master/4164.jpg?width=620&quality=85&auto=format&fit=max&s=2f76f69f5dbf79007286fe76a9668f22″,"width":620},{"src":"https://i.guim.co.uk/img/media/baf44e24e0d409a278194df596a8149c3285c639/0_118_4164_2498/master/4164.jpg?width=620&quality=45&auto=format&fit=max&dpr=2&s=9526a6e16b981d45a31f29274ef41923″,"width":1240},{"src":"https://i.guim.co.uk/img/media/baf44e24e0d409a278194df596a8149c3285c639/0_118_4164_2498/master/4164.jpg?width=605&quality=85&auto=format&fit=max&s=948519f89f2cd0758919a3099cbb7677″,"width":605},{"src":"https://i.guim.co.uk/img/media/baf44e24e0d409a278194df596a8149c3285c639/0_118_4164_2498/master/4164.jpg?width=605&quality=45&auto=format&fit=max&dpr=2&s=597d0d8e1e4c3fdadff84e528c973dfe","width":1210},{"src":"https://i.guim.co.uk/img/media/baf44e24e0d409a278194df596a8149c3285c639/0_118_4164_2498/master/4164.jpg?width=445&quality=85&auto=format&fit=max&s=da6966bbe2f5ec3ef5df03ad3b3dea89″,"width":445},{"src":"https://i.guim.co.uk/img/media/baf44e24e0d409a278194df596a8149c3285c639/0_118_4164_2498/master/4164.jpg?width=445&quality=45&auto=format&fit=max&dpr=2&s=1c99135160df4cb4484b43b0fb36cdeb","width":890}]},{"weighting":"immersive","srcSet":[{"src":"https://i.guim.co.uk/img/media/baf44e24e0d409a278194df596a8149c3285c639/0_118_4164_2498/master/4164.jpg?width=1900&quality=85&auto=format&fit=max&s=defc67b07b2dd5322d59024356349109″,"width":1900},{"src":"https://i.guim.co.uk/img/media/baf44e24e0d409a278194df596a8149c3285c639/0_118_4164_2498/master/4164.jpg?width=1900&quality=45&auto=format&fit=max&dpr=2&s=e434e38b50378928ace9e923bf9c0698″,"width":3800},{"src":"https://i.guim.co.uk/img/media/baf44e24e0d409a278194df596a8149c3285c639/0_118_4164_2498/master/4164.jpg?width=1300&quality=85&auto=format&fit=max&s=c5a8cb27ce909be540371eb1188a77d9″,"width":1300},{"src":"https://i.guim.co.uk/img/media/baf44e24e0d409a278194df596a8149c3285c639/0_118_4164_2498/master/4164.jpg?width=1300&quality=45&auto=format&fit=max&dpr=2&s=cc60af6593cfb46fafa4194e94d1da8d","width":2600},{"src":"https://i.guim.co.uk/img/media/baf44e24e0d409a278194df596a8149c3285c639/0_118_4164_2498/master/4164.jpg?width=1140&quality=85&auto=format&fit=max&s=77b518cac04237419c22c770bbee9c85″,"width":1140},{"src":"https://i.guim.co.uk/img/media/baf44e24e0d409a278194df596a8149c3285c639/0_118_4164_2498/master/4164.jpg?width=1140&quality=45&auto=format&fit=max&dpr=2&s=2234a9abac32caec257d5b54b3a7aeaa","width":2280},{"src":"https://i.guim.co.uk/img/media/baf44e24e0d409a278194df596a8149c3285c639/0_118_4164_2498/master/4164.jpg?width=980&quality=85&auto=format&fit=max&s=afea1b637f1852e7919ef2057c7c8548″,"width":980},{"src":"https://i.guim.co.uk/img/media/baf44e24e0d409a278194df596a8149c3285c639/0_118_4164_2498/master/4164.jpg?width=980&quality=45&auto=format&fit=max&dpr=2&s=bb05a9b3f2bd96be08c7e8df5cd4d1f9″,"width":1960},{"src":"https://i.guim.co.uk/img/media/baf44e24e0d409a278194df596a8149c3285c639/0_118_4164_2498/master/4164.jpg?width=740&quality=85&auto=format&fit=max&s=07100884dfd8a1c05c668552165f505a","width":740},{"src":"https://i.guim.co.uk/img/media/baf44e24e0d409a278194df596a8149c3285c639/0_118_4164_2498/master/4164.jpg?width=740&quality=45&auto=format&fit=max&dpr=2&s=ea2ca4eea4d39df020cfd460b0ad220a","width":1480},{"src":"https://i.guim.co.uk/img/media/baf44e24e0d409a278194df596a8149c3285c639/0_118_4164_2498/master/4164.jpg?width=660&quality=85&auto=format&fit=max&s=66103dcd5c603bb409a210acdb5af53c","width":660},{"src":"https://i.guim.co.uk/img/media/baf44e24e0d409a278194df596a8149c3285c639/0_118_4164_2498/master/4164.jpg?width=660&quality=45&auto=format&fit=max&dpr=2&s=ac817ef2521d0c18bd6de8d4b4de70f6″,"width":1320},{"src":"https://i.guim.co.uk/img/media/baf44e24e0d409a278194df596a8149c3285c639/0_118_4164_2498/master/4164.jpg?width=480&quality=85&auto=format&fit=max&s=1b1f58cb86ee8d0f68d755c7db2fdf6a","width":480},{"src":"https://i.guim.co.uk/img/media/baf44e24e0d409a278194df596a8149c3285c639/0_118_4164_2498/master/4164.jpg?width=480&quality=45&auto=format&fit=max&dpr=2&s=20e0c370e772cafc351000ca7b117ab2″,"width":960}]}],"elementId":"7abf9ecc-1fce-49e9-afb3-71f621b93e83″},{"_type":"mannequin.dotcomrendering.pageElements.ImageBlockElement","media":{"allImages":[{"index":0,"fields":{"height":"1107″,"width":"1552″},"mediaType":"Image","mimeType":"image/jpeg","url":"https://media.guim.co.uk/19486fbf490ef1e6bd3a36215433b3940e09f2e4/115_23_1552_1107/1552.jpg"},{"index":1,"fields":{"isMaster":"true","height":"1107″,"width":"1552″},"mediaType":"Image","mimeType":"image/jpeg","url":"https://media.guim.co.uk/19486fbf490ef1e6bd3a36215433b3940e09f2e4/115_23_1552_1107/master/1552.jpg"},{"index":2,"fields":{"height":"713″,"width":"1000″},"mediaType":"Image","mimeType":"image/jpeg","url":"https://media.guim.co.uk/19486fbf490ef1e6bd3a36215433b3940e09f2e4/115_23_1552_1107/1000.jpg"},{"index":3,"fields":{"height":"357″,"width":"500″},"mediaType":"Image","mimeType":"image/jpeg","url":"https://media.guim.co.uk/19486fbf490ef1e6bd3a36215433b3940e09f2e4/115_23_1552_1107/500.jpg"},{"index":4,"fields":{"height":"100″,"width":"140″},"mediaType":"Image","mimeType":"image/jpeg","url":"https://media.guim.co.uk/19486fbf490ef1e6bd3a36215433b3940e09f2e4/115_23_1552_1107/140.jpg"}]},"information":{"alt":"Manchester United's Millie Turner celebrates scoring their second objective with teammates.","caption":"Then celebrates together with her teammates.","credit score":"{Photograph}: Andrew Boyers/Motion Photographs/Reuters"},"displayCredit":true,"position":"inline","imageSources":[{"weighting":"inline","srcSet":[{"src":"https://i.guim.co.uk/img/media/19486fbf490ef1e6bd3a36215433b3940e09f2e4/115_23_1552_1107/master/1552.jpg?width=620&quality=85&auto=format&fit=max&s=787d0bbe98a0010d7066e00bd8afa5f5″,"width":620},{"src":"https://i.guim.co.uk/img/media/19486fbf490ef1e6bd3a36215433b3940e09f2e4/115_23_1552_1107/master/1552.jpg?width=620&quality=45&auto=format&fit=max&dpr=2&s=1e1c8cfd8beed454009d4141ec859bf8″,"width":1240},{"src":"https://i.guim.co.uk/img/media/19486fbf490ef1e6bd3a36215433b3940e09f2e4/115_23_1552_1107/master/1552.jpg?width=605&quality=85&auto=format&fit=max&s=6a6387b5284aba5faaaca8eb9fcdc30d","width":605},{"src":"https://i.guim.co.uk/img/media/19486fbf490ef1e6bd3a36215433b3940e09f2e4/115_23_1552_1107/master/1552.jpg?width=605&quality=45&auto=format&fit=max&dpr=2&s=1107d86e35a4ff9fdf2d7a4d51ba3870″,"width":1210},{"src":"https://i.guim.co.uk/img/media/19486fbf490ef1e6bd3a36215433b3940e09f2e4/115_23_1552_1107/master/1552.jpg?width=445&quality=85&auto=format&fit=max&s=028f380602dfe7b6aa671e2ca06da313″,"width":445},{"src":"https://i.guim.co.uk/img/media/19486fbf490ef1e6bd3a36215433b3940e09f2e4/115_23_1552_1107/master/1552.jpg?width=445&quality=45&auto=format&fit=max&dpr=2&s=848517d660c66b4f882b134328cffa75″,"width":890}]},{"weighting":"thumbnail","srcSet":[{"src":"https://i.guim.co.uk/img/media/19486fbf490ef1e6bd3a36215433b3940e09f2e4/115_23_1552_1107/master/1552.jpg?width=140&quality=85&auto=format&fit=max&s=6a098e1585666f5aa4ab14cf83c04f2b","width":140},{"src":"https://i.guim.co.uk/img/media/19486fbf490ef1e6bd3a36215433b3940e09f2e4/115_23_1552_1107/master/1552.jpg?width=140&quality=45&auto=format&fit=max&dpr=2&s=10742d364fac75e2ae8be455afb7d3c8″,"width":280},{"src":"https://i.guim.co.uk/img/media/19486fbf490ef1e6bd3a36215433b3940e09f2e4/115_23_1552_1107/master/1552.jpg?width=120&quality=85&auto=format&fit=max&s=d9f8133c2fa50e9bd3983cff126468c3″,"width":120},{"src":"https://i.guim.co.uk/img/media/19486fbf490ef1e6bd3a36215433b3940e09f2e4/115_23_1552_1107/master/1552.jpg?width=120&quality=45&auto=format&fit=max&dpr=2&s=95554643e32fc8fdaa51244b04b2b0c0″,"width":240}]},{"weighting":"supporting","srcSet":[{"src":"https://i.guim.co.uk/img/media/19486fbf490ef1e6bd3a36215433b3940e09f2e4/115_23_1552_1107/master/1552.jpg?width=380&quality=85&auto=format&fit=max&s=13e48803586b0ccb1f15743df75d0ae2″,"width":380},{"src":"https://i.guim.co.uk/img/media/19486fbf490ef1e6bd3a36215433b3940e09f2e4/115_23_1552_1107/master/1552.jpg?width=380&quality=45&auto=format&fit=max&dpr=2&s=0cf5a4f89ed6a1fc870a3265e4048d62″,"width":760},{"src":"https://i.guim.co.uk/img/media/19486fbf490ef1e6bd3a36215433b3940e09f2e4/115_23_1552_1107/master/1552.jpg?width=300&quality=85&auto=format&fit=max&s=2da9ba600fcc10fd4c36c87fa1b4d46f","width":300},{"src":"https://i.guim.co.uk/img/media/19486fbf490ef1e6bd3a36215433b3940e09f2e4/115_23_1552_1107/master/1552.jpg?width=300&quality=45&auto=format&fit=max&dpr=2&s=be5c1348395a28c428e5ab82dc2aab7b","width":600},{"src":"https://i.guim.co.uk/img/media/19486fbf490ef1e6bd3a36215433b3940e09f2e4/115_23_1552_1107/master/1552.jpg?width=620&quality=85&auto=format&fit=max&s=787d0bbe98a0010d7066e00bd8afa5f5″,"width":620},{"src":"https://i.guim.co.uk/img/media/19486fbf490ef1e6bd3a36215433b3940e09f2e4/115_23_1552_1107/master/1552.jpg?width=620&quality=45&auto=format&fit=max&dpr=2&s=1e1c8cfd8beed454009d4141ec859bf8″,"width":1240},{"src":"https://i.guim.co.uk/img/media/19486fbf490ef1e6bd3a36215433b3940e09f2e4/115_23_1552_1107/master/1552.jpg?width=605&quality=85&auto=format&fit=max&s=6a6387b5284aba5faaaca8eb9fcdc30d","width":605},{"src":"https://i.guim.co.uk/img/media/19486fbf490ef1e6bd3a36215433b3940e09f2e4/115_23_1552_1107/master/1552.jpg?width=605&quality=45&auto=format&fit=max&dpr=2&s=1107d86e35a4ff9fdf2d7a4d51ba3870″,"width":1210},{"src":"https://i.guim.co.uk/img/media/19486fbf490ef1e6bd3a36215433b3940e09f2e4/115_23_1552_1107/master/1552.jpg?width=445&quality=85&auto=format&fit=max&s=028f380602dfe7b6aa671e2ca06da313″,"width":445},{"src":"https://i.guim.co.uk/img/media/19486fbf490ef1e6bd3a36215433b3940e09f2e4/115_23_1552_1107/master/1552.jpg?width=445&quality=45&auto=format&fit=max&dpr=2&s=848517d660c66b4f882b134328cffa75″,"width":890}]},{"weighting":"showcase","srcSet":[{"src":"https://i.guim.co.uk/img/media/19486fbf490ef1e6bd3a36215433b3940e09f2e4/115_23_1552_1107/master/1552.jpg?width=860&quality=85&auto=format&fit=max&s=26f3b646f6c6359ddd5c48d495bb3191″,"width":860},{"src":"https://i.guim.co.uk/img/media/19486fbf490ef1e6bd3a36215433b3940e09f2e4/115_23_1552_1107/master/1552.jpg?width=860&quality=45&auto=format&fit=max&dpr=2&s=6134107060f4a33ba4dae5039703002a","width":1720},{"src":"https://i.guim.co.uk/img/media/19486fbf490ef1e6bd3a36215433b3940e09f2e4/115_23_1552_1107/master/1552.jpg?width=780&quality=85&auto=format&fit=max&s=3d34698020d4fad90d6806dfbee84063″,"width":780},{"src":"https://i.guim.co.uk/img/media/19486fbf490ef1e6bd3a36215433b3940e09f2e4/115_23_1552_1107/master/1552.jpg?width=780&quality=45&auto=format&fit=max&dpr=2&s=05df80b2bb26b71921e689254d7f8ce9″,"width":1560},{"src":"https://i.guim.co.uk/img/media/19486fbf490ef1e6bd3a36215433b3940e09f2e4/115_23_1552_1107/master/1552.jpg?width=620&quality=85&auto=format&fit=max&s=787d0bbe98a0010d7066e00bd8afa5f5″,"width":620},{"src":"https://i.guim.co.uk/img/media/19486fbf490ef1e6bd3a36215433b3940e09f2e4/115_23_1552_1107/master/1552.jpg?width=620&quality=45&auto=format&fit=max&dpr=2&s=1e1c8cfd8beed454009d4141ec859bf8″,"width":1240},{"src":"https://i.guim.co.uk/img/media/19486fbf490ef1e6bd3a36215433b3940e09f2e4/115_23_1552_1107/master/1552.jpg?width=605&quality=85&auto=format&fit=max&s=6a6387b5284aba5faaaca8eb9fcdc30d","width":605},{"src":"https://i.guim.co.uk/img/media/19486fbf490ef1e6bd3a36215433b3940e09f2e4/115_23_1552_1107/master/1552.jpg?width=605&quality=45&auto=format&fit=max&dpr=2&s=1107d86e35a4ff9fdf2d7a4d51ba3870″,"width":1210},{"src":"https://i.guim.co.uk/img/media/19486fbf490ef1e6bd3a36215433b3940e09f2e4/115_23_1552_1107/master/1552.jpg?width=445&quality=85&auto=format&fit=max&s=028f380602dfe7b6aa671e2ca06da313″,"width":445},{"src":"https://i.guim.co.uk/img/media/19486fbf490ef1e6bd3a36215433b3940e09f2e4/115_23_1552_1107/master/1552.jpg?width=445&quality=45&auto=format&fit=max&dpr=2&s=848517d660c66b4f882b134328cffa75″,"width":890}]},{"weighting":"halfwidth","srcSet":[{"src":"https://i.guim.co.uk/img/media/19486fbf490ef1e6bd3a36215433b3940e09f2e4/115_23_1552_1107/master/1552.jpg?width=620&quality=85&auto=format&fit=max&s=787d0bbe98a0010d7066e00bd8afa5f5″,"width":620},{"src":"https://i.guim.co.uk/img/media/19486fbf490ef1e6bd3a36215433b3940e09f2e4/115_23_1552_1107/master/1552.jpg?width=620&quality=45&auto=format&fit=max&dpr=2&s=1e1c8cfd8beed454009d4141ec859bf8″,"width":1240},{"src":"https://i.guim.co.uk/img/media/19486fbf490ef1e6bd3a36215433b3940e09f2e4/115_23_1552_1107/master/1552.jpg?width=605&quality=85&auto=format&fit=max&s=6a6387b5284aba5faaaca8eb9fcdc30d","width":605},{"src":"https://i.guim.co.uk/img/media/19486fbf490ef1e6bd3a36215433b3940e09f2e4/115_23_1552_1107/master/1552.jpg?width=605&quality=45&auto=format&fit=max&dpr=2&s=1107d86e35a4ff9fdf2d7a4d51ba3870″,"width":1210},{"src":"https://i.guim.co.uk/img/media/19486fbf490ef1e6bd3a36215433b3940e09f2e4/115_23_1552_1107/master/1552.jpg?width=445&quality=85&auto=format&fit=max&s=028f380602dfe7b6aa671e2ca06da313″,"width":445},{"src":"https://i.guim.co.uk/img/media/19486fbf490ef1e6bd3a36215433b3940e09f2e4/115_23_1552_1107/master/1552.jpg?width=445&quality=45&auto=format&fit=max&dpr=2&s=848517d660c66b4f882b134328cffa75″,"width":890}]},{"weighting":"immersive","srcSet":[{"src":"https://i.guim.co.uk/img/media/19486fbf490ef1e6bd3a36215433b3940e09f2e4/115_23_1552_1107/master/1552.jpg?width=1900&quality=85&auto=format&fit=max&s=a11058262676c65b7ff0bc7e73d0df48″,"width":1900},{"src":"https://i.guim.co.uk/img/media/19486fbf490ef1e6bd3a36215433b3940e09f2e4/115_23_1552_1107/master/1552.jpg?width=1900&quality=45&auto=format&fit=max&dpr=2&s=5f233245222995a3f351b41ba8b458be","width":3800},{"src":"https://i.guim.co.uk/img/media/19486fbf490ef1e6bd3a36215433b3940e09f2e4/115_23_1552_1107/master/1552.jpg?width=1300&quality=85&auto=format&fit=max&s=d81381402ff86f6af528cad2ae8559f7″,"width":1300},{"src":"https://i.guim.co.uk/img/media/19486fbf490ef1e6bd3a36215433b3940e09f2e4/115_23_1552_1107/master/1552.jpg?width=1300&quality=45&auto=format&fit=max&dpr=2&s=41552575781d8c7b5ddfddad98a500d6″,"width":2600},{"src":"https://i.guim.co.uk/img/media/19486fbf490ef1e6bd3a36215433b3940e09f2e4/115_23_1552_1107/master/1552.jpg?width=1140&quality=85&auto=format&fit=max&s=4bb462db1b3f0e02d74ccff4f67cd8af","width":1140},{"src":"https://i.guim.co.uk/img/media/19486fbf490ef1e6bd3a36215433b3940e09f2e4/115_23_1552_1107/master/1552.jpg?width=1140&quality=45&auto=format&fit=max&dpr=2&s=b869c607794aa74cea76c5d514679126″,"width":2280},{"src":"https://i.guim.co.uk/img/media/19486fbf490ef1e6bd3a36215433b3940e09f2e4/115_23_1552_1107/master/1552.jpg?width=980&quality=85&auto=format&fit=max&s=25fbf53da423adc7296a9269201b9558″,"width":980},{"src":"https://i.guim.co.uk/img/media/19486fbf490ef1e6bd3a36215433b3940e09f2e4/115_23_1552_1107/master/1552.jpg?width=980&quality=45&auto=format&fit=max&dpr=2&s=9bf423f3b44717ab155c4e5f63721344″,"width":1960},{"src":"https://i.guim.co.uk/img/media/19486fbf490ef1e6bd3a36215433b3940e09f2e4/115_23_1552_1107/master/1552.jpg?width=740&quality=85&auto=format&fit=max&s=d4417d4df08feffa7ac6dc5a9a6324b4″,"width":740},{"src":"https://i.guim.co.uk/img/media/19486fbf490ef1e6bd3a36215433b3940e09f2e4/115_23_1552_1107/master/1552.jpg?width=740&quality=45&auto=format&fit=max&dpr=2&s=5b0c797ee4ffc8d8b1a28127625e9c89″,"width":1480},{"src":"https://i.guim.co.uk/img/media/19486fbf490ef1e6bd3a36215433b3940e09f2e4/115_23_1552_1107/master/1552.jpg?width=660&quality=85&auto=format&fit=max&s=ca2f89672f0ccce9247f44dac8165f01″,"width":660},{"src":"https://i.guim.co.uk/img/media/19486fbf490ef1e6bd3a36215433b3940e09f2e4/115_23_1552_1107/master/1552.jpg?width=660&quality=45&auto=format&fit=max&dpr=2&s=8a7d324b46946a2936b3185294300a54″,"width":1320},{"src":"https://i.guim.co.uk/img/media/19486fbf490ef1e6bd3a36215433b3940e09f2e4/115_23_1552_1107/master/1552.jpg?width=480&quality=85&auto=format&fit=max&s=10061b36622f587a3c759fb5ddf9646a","width":480},{"src":"https://i.guim.co.uk/img/media/19486fbf490ef1e6bd3a36215433b3940e09f2e4/115_23_1552_1107/master/1552.jpg?width=480&quality=45&auto=format&fit=max&dpr=2&s=dd14f54ab88651868c615513a46f8d36″,"width":960}]}],"elementId":"ee931667-19d5-49e4-addc-e5c1e77513f7″}],"attributes":{"pinned":false,"keyEvent":true,"abstract":false},"blockCreatedOn":1668885189000,"blockCreatedOnDisplay":"19.13 GMT","blockLastUpdated":1668886814000,"blockLastUpdatedDisplay":"19.40 GMT","blockFirstPublished":1668885295000,"blockFirstPublishedDisplay":"19.14 GMT","blockFirstPublishedDisplayNoTimezone":"19.14″,"title":"GOAL! Arsenal 2-2 Manchester United (Turner 85)","contributors":[],"primaryDateLine":"Sat 19 Nov 2022 20.07 GMT","secondaryDateLine":"First printed on Sat 19 Nov 2022 16.40 GMT"},{"id":"637927f98f088c5c88612008″,"components":[{"_type":"model.dotcomrendering.pageElements.TextBlockElement","html":"

Arsenal take the lead! Laura Wienroither scores her first goal for Arsenal, firing home a splendid far post volley after getting on the end of a terrific cross from Katie McCabe. That's a brilliant goal!

","elementId":"9a4146bb-c179-4a94-900d-77d6d5566bc6″},{"_type":"model.dotcomrendering.pageElements.ImageBlockElement","media":{"allImages":[{"index":0,"fields":{"height":"1099″,"width":"1833″},"mediaType":"Image","mimeType":"image/jpeg","url":"https://media.guim.co.uk/964c2c9d4f5af7e46feff660158fe6f43801600b/0_57_1833_1099/1833.jpg"},{"index":1,"fields":{"isMaster":"true","height":"1099″,"width":"1833″},"mediaType":"Image","mimeType":"image/jpeg","url":"https://media.guim.co.uk/964c2c9d4f5af7e46feff660158fe6f43801600b/0_57_1833_1099/master/1833.jpg"},{"index":2,"fields":{"height":"600″,"width":"1000″},"mediaType":"Image","mimeType":"image/jpeg","url":"https://media.guim.co.uk/964c2c9d4f5af7e46feff660158fe6f43801600b/0_57_1833_1099/1000.jpg"},{"index":3,"fields":{"height":"300″,"width":"500″},"mediaType":"Image","mimeType":"image/jpeg","url":"https://media.guim.co.uk/964c2c9d4f5af7e46feff660158fe6f43801600b/0_57_1833_1099/500.jpg"},{"index":4,"fields":{"height":"84″,"width":"140″},"mediaType":"Image","mimeType":"image/jpeg","url":"https://media.guim.co.uk/964c2c9d4f5af7e46feff660158fe6f43801600b/0_57_1833_1099/140.jpg"}]},"information":{"alt":"Arsenal's Laura Wienroither (centre proper) celebrates after placing the house aspect forward.","caption":"Arsenal's Laura Wienroither (centre proper) celebrates after placing the house aspect forward.","credit score":"{Photograph}: Zac Goodwin/PA"},"displayCredit":true,"position":"inline","imageSources":[{"weighting":"inline","srcSet":[{"src":"https://i.guim.co.uk/img/media/964c2c9d4f5af7e46feff660158fe6f43801600b/0_57_1833_1099/master/1833.jpg?width=620&quality=85&auto=format&fit=max&s=9c611b0c91f01a72186fc38ceba4adb2″,"width":620},{"src":"https://i.guim.co.uk/img/media/964c2c9d4f5af7e46feff660158fe6f43801600b/0_57_1833_1099/master/1833.jpg?width=620&quality=45&auto=format&fit=max&dpr=2&s=dc422a9fcbae5851ea86e828e7f483de","width":1240},{"src":"https://i.guim.co.uk/img/media/964c2c9d4f5af7e46feff660158fe6f43801600b/0_57_1833_1099/master/1833.jpg?width=605&quality=85&auto=format&fit=max&s=60c6d8227023174ed73f64f422ab1057″,"width":605},{"src":"https://i.guim.co.uk/img/media/964c2c9d4f5af7e46feff660158fe6f43801600b/0_57_1833_1099/master/1833.jpg?width=605&quality=45&auto=format&fit=max&dpr=2&s=db74b83e74bb3d6c0ea6368e02421d28″,"width":1210},{"src":"https://i.guim.co.uk/img/media/964c2c9d4f5af7e46feff660158fe6f43801600b/0_57_1833_1099/master/1833.jpg?width=445&quality=85&auto=format&fit=max&s=68f862edb8de82d31c3ba1724e96e609″,"width":445},{"src":"https://i.guim.co.uk/img/media/964c2c9d4f5af7e46feff660158fe6f43801600b/0_57_1833_1099/master/1833.jpg?width=445&quality=45&auto=format&fit=max&dpr=2&s=4ec87077c8e7a278f5ac8129a9db41b3″,"width":890}]},{"weighting":"thumbnail","srcSet":[{"src":"https://i.guim.co.uk/img/media/964c2c9d4f5af7e46feff660158fe6f43801600b/0_57_1833_1099/master/1833.jpg?width=140&quality=85&auto=format&fit=max&s=566b0923f24a219db7570d44a49a4450″,"width":140},{"src":"https://i.guim.co.uk/img/media/964c2c9d4f5af7e46feff660158fe6f43801600b/0_57_1833_1099/master/1833.jpg?width=140&quality=45&auto=format&fit=max&dpr=2&s=7e3c564684ac81b0513a703032774c1c","width":280},{"src":"https://i.guim.co.uk/img/media/964c2c9d4f5af7e46feff660158fe6f43801600b/0_57_1833_1099/master/1833.jpg?width=120&quality=85&auto=format&fit=max&s=5fc018d84959415331a5b8750ac906c4″,"width":120},{"src":"https://i.guim.co.uk/img/media/964c2c9d4f5af7e46feff660158fe6f43801600b/0_57_1833_1099/master/1833.jpg?width=120&quality=45&auto=format&fit=max&dpr=2&s=d6034612c9868b5b69e5c03d94e2e5be","width":240}]},{"weighting":"supporting","srcSet":[{"src":"https://i.guim.co.uk/img/media/964c2c9d4f5af7e46feff660158fe6f43801600b/0_57_1833_1099/master/1833.jpg?width=380&quality=85&auto=format&fit=max&s=57a74e6dc4a4b1b3a8fe3bdfbd3f9281″,"width":380},{"src":"https://i.guim.co.uk/img/media/964c2c9d4f5af7e46feff660158fe6f43801600b/0_57_1833_1099/master/1833.jpg?width=380&quality=45&auto=format&fit=max&dpr=2&s=f5a7474f36aaf461d0574e6ca52d005b","width":760},{"src":"https://i.guim.co.uk/img/media/964c2c9d4f5af7e46feff660158fe6f43801600b/0_57_1833_1099/master/1833.jpg?width=300&quality=85&auto=format&fit=max&s=8c0352d30f7145848defa819bb730d18″,"width":300},{"src":"https://i.guim.co.uk/img/media/964c2c9d4f5af7e46feff660158fe6f43801600b/0_57_1833_1099/master/1833.jpg?width=300&quality=45&auto=format&fit=max&dpr=2&s=522200a5ec5f42b9e24da070a985d287″,"width":600},{"src":"https://i.guim.co.uk/img/media/964c2c9d4f5af7e46feff660158fe6f43801600b/0_57_1833_1099/master/1833.jpg?width=620&quality=85&auto=format&fit=max&s=9c611b0c91f01a72186fc38ceba4adb2″,"width":620},{"src":"https://i.guim.co.uk/img/media/964c2c9d4f5af7e46feff660158fe6f43801600b/0_57_1833_1099/master/1833.jpg?width=620&quality=45&auto=format&fit=max&dpr=2&s=dc422a9fcbae5851ea86e828e7f483de","width":1240},{"src":"https://i.guim.co.uk/img/media/964c2c9d4f5af7e46feff660158fe6f43801600b/0_57_1833_1099/master/1833.jpg?width=605&quality=85&auto=format&fit=max&s=60c6d8227023174ed73f64f422ab1057″,"width":605},{"src":"https://i.guim.co.uk/img/media/964c2c9d4f5af7e46feff660158fe6f43801600b/0_57_1833_1099/master/1833.jpg?width=605&quality=45&auto=format&fit=max&dpr=2&s=db74b83e74bb3d6c0ea6368e02421d28″,"width":1210},{"src":"https://i.guim.co.uk/img/media/964c2c9d4f5af7e46feff660158fe6f43801600b/0_57_1833_1099/master/1833.jpg?width=445&quality=85&auto=format&fit=max&s=68f862edb8de82d31c3ba1724e96e609″,"width":445},{"src":"https://i.guim.co.uk/img/media/964c2c9d4f5af7e46feff660158fe6f43801600b/0_57_1833_1099/master/1833.jpg?width=445&quality=45&auto=format&fit=max&dpr=2&s=4ec87077c8e7a278f5ac8129a9db41b3″,"width":890}]},{"weighting":"showcase","srcSet":[{"src":"https://i.guim.co.uk/img/media/964c2c9d4f5af7e46feff660158fe6f43801600b/0_57_1833_1099/master/1833.jpg?width=860&quality=85&auto=format&fit=max&s=55701c5552959127bcbb18b120f6c569″,"width":860},{"src":"https://i.guim.co.uk/img/media/964c2c9d4f5af7e46feff660158fe6f43801600b/0_57_1833_1099/master/1833.jpg?width=860&quality=45&auto=format&fit=max&dpr=2&s=1a8ed1e02cec3411aeebca29caad97dc","width":1720},{"src":"https://i.guim.co.uk/img/media/964c2c9d4f5af7e46feff660158fe6f43801600b/0_57_1833_1099/master/1833.jpg?width=780&quality=85&auto=format&fit=max&s=5d4fb7d6b6cef61a448c868100e963b6″,"width":780},{"src":"https://i.guim.co.uk/img/media/964c2c9d4f5af7e46feff660158fe6f43801600b/0_57_1833_1099/master/1833.jpg?width=780&quality=45&auto=format&fit=max&dpr=2&s=ebc14662bc96baf267f391e68250aba9″,"width":1560},{"src":"https://i.guim.co.uk/img/media/964c2c9d4f5af7e46feff660158fe6f43801600b/0_57_1833_1099/master/1833.jpg?width=620&quality=85&auto=format&fit=max&s=9c611b0c91f01a72186fc38ceba4adb2″,"width":620},{"src":"https://i.guim.co.uk/img/media/964c2c9d4f5af7e46feff660158fe6f43801600b/0_57_1833_1099/master/1833.jpg?width=620&quality=45&auto=format&fit=max&dpr=2&s=dc422a9fcbae5851ea86e828e7f483de","width":1240},{"src":"https://i.guim.co.uk/img/media/964c2c9d4f5af7e46feff660158fe6f43801600b/0_57_1833_1099/master/1833.jpg?width=605&quality=85&auto=format&fit=max&s=60c6d8227023174ed73f64f422ab1057″,"width":605},{"src":"https://i.guim.co.uk/img/media/964c2c9d4f5af7e46feff660158fe6f43801600b/0_57_1833_1099/master/1833.jpg?width=605&quality=45&auto=format&fit=max&dpr=2&s=db74b83e74bb3d6c0ea6368e02421d28″,"width":1210},{"src":"https://i.guim.co.uk/img/media/964c2c9d4f5af7e46feff660158fe6f43801600b/0_57_1833_1099/master/1833.jpg?width=445&quality=85&auto=format&fit=max&s=68f862edb8de82d31c3ba1724e96e609″,"width":445},{"src":"https://i.guim.co.uk/img/media/964c2c9d4f5af7e46feff660158fe6f43801600b/0_57_1833_1099/master/1833.jpg?width=445&quality=45&auto=format&fit=max&dpr=2&s=4ec87077c8e7a278f5ac8129a9db41b3″,"width":890}]},{"weighting":"halfwidth","srcSet":[{"src":"https://i.guim.co.uk/img/media/964c2c9d4f5af7e46feff660158fe6f43801600b/0_57_1833_1099/master/1833.jpg?width=620&quality=85&auto=format&fit=max&s=9c611b0c91f01a72186fc38ceba4adb2″,"width":620},{"src":"https://i.guim.co.uk/img/media/964c2c9d4f5af7e46feff660158fe6f43801600b/0_57_1833_1099/master/1833.jpg?width=620&quality=45&auto=format&fit=max&dpr=2&s=dc422a9fcbae5851ea86e828e7f483de","width":1240},{"src":"https://i.guim.co.uk/img/media/964c2c9d4f5af7e46feff660158fe6f43801600b/0_57_1833_1099/master/1833.jpg?width=605&quality=85&auto=format&fit=max&s=60c6d8227023174ed73f64f422ab1057″,"width":605},{"src":"https://i.guim.co.uk/img/media/964c2c9d4f5af7e46feff660158fe6f43801600b/0_57_1833_1099/master/1833.jpg?width=605&quality=45&auto=format&fit=max&dpr=2&s=db74b83e74bb3d6c0ea6368e02421d28″,"width":1210},{"src":"https://i.guim.co.uk/img/media/964c2c9d4f5af7e46feff660158fe6f43801600b/0_57_1833_1099/master/1833.jpg?width=445&quality=85&auto=format&fit=max&s=68f862edb8de82d31c3ba1724e96e609″,"width":445},{"src":"https://i.guim.co.uk/img/media/964c2c9d4f5af7e46feff660158fe6f43801600b/0_57_1833_1099/master/1833.jpg?width=445&quality=45&auto=format&fit=max&dpr=2&s=4ec87077c8e7a278f5ac8129a9db41b3″,"width":890}]},{"weighting":"immersive","srcSet":[{"src":"https://i.guim.co.uk/img/media/964c2c9d4f5af7e46feff660158fe6f43801600b/0_57_1833_1099/master/1833.jpg?width=1900&quality=85&auto=format&fit=max&s=1cf415e3b4748c00c3d792869cd2c4e4″,"width":1900},{"src":"https://i.guim.co.uk/img/media/964c2c9d4f5af7e46feff660158fe6f43801600b/0_57_1833_1099/master/1833.jpg?width=1900&quality=45&auto=format&fit=max&dpr=2&s=b3fa0b6a16b4cc0477e24caf4626a836″,"width":3800},{"src":"https://i.guim.co.uk/img/media/964c2c9d4f5af7e46feff660158fe6f43801600b/0_57_1833_1099/master/1833.jpg?width=1300&quality=85&auto=format&fit=max&s=645c689ca60cacb205f4944a7faf25e6″,"width":1300},{"src":"https://i.guim.co.uk/img/media/964c2c9d4f5af7e46feff660158fe6f43801600b/0_57_1833_1099/master/1833.jpg?width=1300&quality=45&auto=format&fit=max&dpr=2&s=4d124a90c787478704d54550816347d8″,"width":2600},{"src":"https://i.guim.co.uk/img/media/964c2c9d4f5af7e46feff660158fe6f43801600b/0_57_1833_1099/master/1833.jpg?width=1140&quality=85&auto=format&fit=max&s=be41764c858b1d1bb8719218e9d34f67″,"width":1140},{"src":"https://i.guim.co.uk/img/media/964c2c9d4f5af7e46feff660158fe6f43801600b/0_57_1833_1099/master/1833.jpg?width=1140&quality=45&auto=format&fit=max&dpr=2&s=041302ea342e655be91a3772e347a086″,"width":2280},{"src":"https://i.guim.co.uk/img/media/964c2c9d4f5af7e46feff660158fe6f43801600b/0_57_1833_1099/master/1833.jpg?width=980&quality=85&auto=format&fit=max&s=4c4724143dc0bd5cdbdbea353a983bc6″,"width":980},{"src":"https://i.guim.co.uk/img/media/964c2c9d4f5af7e46feff660158fe6f43801600b/0_57_1833_1099/master/1833.jpg?width=980&quality=45&auto=format&fit=max&dpr=2&s=1b42ee9925911be530d02864abaad265″,"width":1960},{"src":"https://i.guim.co.uk/img/media/964c2c9d4f5af7e46feff660158fe6f43801600b/0_57_1833_1099/master/1833.jpg?width=740&quality=85&auto=format&fit=max&s=1a580c1e60866c1019713d1281387705″,"width":740},{"src":"https://i.guim.co.uk/img/media/964c2c9d4f5af7e46feff660158fe6f43801600b/0_57_1833_1099/master/1833.jpg?width=740&quality=45&auto=format&fit=max&dpr=2&s=b0381e5b76456259a5a8297454b05a79″,"width":1480},{"src":"https://i.guim.co.uk/img/media/964c2c9d4f5af7e46feff660158fe6f43801600b/0_57_1833_1099/master/1833.jpg?width=660&quality=85&auto=format&fit=max&s=a6c5778f887ce4f995e62d59e1560a51″,"width":660},{"src":"https://i.guim.co.uk/img/media/964c2c9d4f5af7e46feff660158fe6f43801600b/0_57_1833_1099/master/1833.jpg?width=660&quality=45&auto=format&fit=max&dpr=2&s=9eb30325ccffdc8c3919cd40acc39f78″,"width":1320},{"src":"https://i.guim.co.uk/img/media/964c2c9d4f5af7e46feff660158fe6f43801600b/0_57_1833_1099/master/1833.jpg?width=480&quality=85&auto=format&fit=max&s=a3897101f3eb58d69f7fb7fd28709e27″,"width":480},{"src":"https://i.guim.co.uk/img/media/964c2c9d4f5af7e46feff660158fe6f43801600b/0_57_1833_1099/master/1833.jpg?width=480&quality=45&auto=format&fit=max&dpr=2&s=5fbb35353a7f1a035390ab82adc8dced","width":960}]}],"elementId":"2673e662-6347-4b0d-ae0d-af1117998694″}],"attributes":{"pinned":false,"keyEvent":true,"abstract":false},"blockCreatedOn":1668884473000,"blockCreatedOnDisplay":"19.01 GMT","blockLastUpdated":1668885540000,"blockLastUpdatedDisplay":"19.19 GMT","blockFirstPublished":1668884590000,"blockFirstPublishedDisplay":"19.03 GMT","blockFirstPublishedDisplayNoTimezone":"19.03″,"title":"GOAL! Arsenal 2-1 Manchester United (Wienroither 74)","contributors":[],"primaryDateLine":"Sat 19 Nov 2022 20.07 GMT","secondaryDateLine":"First printed on Sat 19 Nov 2022 16.40 GMT"},{"id":"637921a38f088c5c88611fde","components":[{"_type":"model.dotcomrendering.pageElements.TextBlockElement","html":"

Arsenal equalise! My word, they're not looking lacklustre any more!

","elementId":"c0ec1650-9f44-4d0d-b92f-dd9e249d29c4″},{"_type":"model.dotcomrendering.pageElements.ImageBlockElement","media":{"allImages":[{"index":0,"fields":{"height":"1624″,"width":"2706″},"mediaType":"Image","mimeType":"image/jpeg","url":"https://media.guim.co.uk/e6ee1c943b709e00e958400ea9a1c34cbd86f923/0_150_2706_1624/2706.jpg"},{"index":1,"fields":{"isMaster":"true","height":"1624″,"width":"2706″},"mediaType":"Image","mimeType":"image/jpeg","url":"https://media.guim.co.uk/e6ee1c943b709e00e958400ea9a1c34cbd86f923/0_150_2706_1624/master/2706.jpg"},{"index":2,"fields":{"height":"1200″,"width":"2000″},"mediaType":"Image","mimeType":"image/jpeg","url":"https://media.guim.co.uk/e6ee1c943b709e00e958400ea9a1c34cbd86f923/0_150_2706_1624/2000.jpg"},{"index":3,"fields":{"height":"600″,"width":"1000″},"mediaType":"Image","mimeType":"image/jpeg","url":"https://media.guim.co.uk/e6ee1c943b709e00e958400ea9a1c34cbd86f923/0_150_2706_1624/1000.jpg"},{"index":4,"fields":{"height":"300″,"width":"500″},"mediaType":"Image","mimeType":"image/jpeg","url":"https://media.guim.co.uk/e6ee1c943b709e00e958400ea9a1c34cbd86f923/0_150_2706_1624/500.jpg"},{"index":5,"fields":{"height":"84″,"width":"140″},"mediaType":"Image","mimeType":"image/jpeg","url":"https://media.guim.co.uk/e6ee1c943b709e00e958400ea9a1c34cbd86f923/0_150_2706_1624/140.jpg"}]},"information":{"alt":"Arsenal's Frida Maanum (centre) celebrates with teammate Lotte Wubben-Moy after getting the house aspect again on degree phrases.","caption":"Arsenal's Frida Maanum (centre) celebrates with teammate Lotte Wubben-Moy after getting the house aspect again on degree phrases.","credit score":"{Photograph}: Zac Goodwin/PA"},"displayCredit":true,"position":"inline","imageSources":[{"weighting":"inline","srcSet":[{"src":"https://i.guim.co.uk/img/media/e6ee1c943b709e00e958400ea9a1c34cbd86f923/0_150_2706_1624/master/2706.jpg?width=620&quality=85&auto=format&fit=max&s=27ac82e299e59e3bdf7724b98c5e235b","width":620},{"src":"https://i.guim.co.uk/img/media/e6ee1c943b709e00e958400ea9a1c34cbd86f923/0_150_2706_1624/master/2706.jpg?width=620&quality=45&auto=format&fit=max&dpr=2&s=f8450ab609e8015173c8b96a1d7fd2e1″,"width":1240},{"src":"https://i.guim.co.uk/img/media/e6ee1c943b709e00e958400ea9a1c34cbd86f923/0_150_2706_1624/master/2706.jpg?width=605&quality=85&auto=format&fit=max&s=a56983d3d45683455ad97bd28fdc0b8d","width":605},{"src":"https://i.guim.co.uk/img/media/e6ee1c943b709e00e958400ea9a1c34cbd86f923/0_150_2706_1624/master/2706.jpg?width=605&quality=45&auto=format&fit=max&dpr=2&s=89d16c402e72ff5cfe65d1d752ad4b89″,"width":1210},{"src":"https://i.guim.co.uk/img/media/e6ee1c943b709e00e958400ea9a1c34cbd86f923/0_150_2706_1624/master/2706.jpg?width=445&quality=85&auto=format&fit=max&s=9742f514ab2f168f2d04e879b203259c","width":445},{"src":"https://i.guim.co.uk/img/media/e6ee1c943b709e00e958400ea9a1c34cbd86f923/0_150_2706_1624/master/2706.jpg?width=445&quality=45&auto=format&fit=max&dpr=2&s=a3c14f6bc26c456f631b78927293d9de","width":890}]},{"weighting":"thumbnail","srcSet":[{"src":"https://i.guim.co.uk/img/media/e6ee1c943b709e00e958400ea9a1c34cbd86f923/0_150_2706_1624/master/2706.jpg?width=140&quality=85&auto=format&fit=max&s=eb90424f44dc6dcc398f19bf36e4742b","width":140},{"src":"https://i.guim.co.uk/img/media/e6ee1c943b709e00e958400ea9a1c34cbd86f923/0_150_2706_1624/master/2706.jpg?width=140&quality=45&auto=format&fit=max&dpr=2&s=5c1b41e94ec1b1c56c54802c51fa37f0″,"width":280},{"src":"https://i.guim.co.uk/img/media/e6ee1c943b709e00e958400ea9a1c34cbd86f923/0_150_2706_1624/master/2706.jpg?width=120&quality=85&auto=format&fit=max&s=e2634d648833eb42eff78119e9e80aef","width":120},{"src":"https://i.guim.co.uk/img/media/e6ee1c943b709e00e958400ea9a1c34cbd86f923/0_150_2706_1624/master/2706.jpg?width=120&quality=45&auto=format&fit=max&dpr=2&s=2ebb2abeadce6fc5f8e8dece031e6294″,"width":240}]},{"weighting":"supporting","srcSet":[{"src":"https://i.guim.co.uk/img/media/e6ee1c943b709e00e958400ea9a1c34cbd86f923/0_150_2706_1624/master/2706.jpg?width=380&quality=85&auto=format&fit=max&s=07690fc77d798f5c95fde6b290ff3f56″,"width":380},{"src":"https://i.guim.co.uk/img/media/e6ee1c943b709e00e958400ea9a1c34cbd86f923/0_150_2706_1624/master/2706.jpg?width=380&quality=45&auto=format&fit=max&dpr=2&s=743f21223f3aa8693ab6b75d972e1c4c","width":760},{"src":"https://i.guim.co.uk/img/media/e6ee1c943b709e00e958400ea9a1c34cbd86f923/0_150_2706_1624/master/2706.jpg?width=300&quality=85&auto=format&fit=max&s=f2014c640b7c7d3fc9d97e4940e5b894″,"width":300},{"src":"https://i.guim.co.uk/img/media/e6ee1c943b709e00e958400ea9a1c34cbd86f923/0_150_2706_1624/master/2706.jpg?width=300&quality=45&auto=format&fit=max&dpr=2&s=9e7d8f8d16f90c109a37d6f57be0ae58″,"width":600},{"src":"https://i.guim.co.uk/img/media/e6ee1c943b709e00e958400ea9a1c34cbd86f923/0_150_2706_1624/master/2706.jpg?width=620&quality=85&auto=format&fit=max&s=27ac82e299e59e3bdf7724b98c5e235b","width":620},{"src":"https://i.guim.co.uk/img/media/e6ee1c943b709e00e958400ea9a1c34cbd86f923/0_150_2706_1624/master/2706.jpg?width=620&quality=45&auto=format&fit=max&dpr=2&s=f8450ab609e8015173c8b96a1d7fd2e1″,"width":1240},{"src":"https://i.guim.co.uk/img/media/e6ee1c943b709e00e958400ea9a1c34cbd86f923/0_150_2706_1624/master/2706.jpg?width=605&quality=85&auto=format&fit=max&s=a56983d3d45683455ad97bd28fdc0b8d","width":605},{"src":"https://i.guim.co.uk/img/media/e6ee1c943b709e00e958400ea9a1c34cbd86f923/0_150_2706_1624/master/2706.jpg?width=605&quality=45&auto=format&fit=max&dpr=2&s=89d16c402e72ff5cfe65d1d752ad4b89″,"width":1210},{"src":"https://i.guim.co.uk/img/media/e6ee1c943b709e00e958400ea9a1c34cbd86f923/0_150_2706_1624/master/2706.jpg?width=445&quality=85&auto=format&fit=max&s=9742f514ab2f168f2d04e879b203259c","width":445},{"src":"https://i.guim.co.uk/img/media/e6ee1c943b709e00e958400ea9a1c34cbd86f923/0_150_2706_1624/master/2706.jpg?width=445&quality=45&auto=format&fit=max&dpr=2&s=a3c14f6bc26c456f631b78927293d9de","width":890}]},{"weighting":"showcase","srcSet":[{"src":"https://i.guim.co.uk/img/media/e6ee1c943b709e00e958400ea9a1c34cbd86f923/0_150_2706_1624/master/2706.jpg?width=860&quality=85&auto=format&fit=max&s=0aa2030b4eabdbdf605ac638fd43b6d0″,"width":860},{"src":"https://i.guim.co.uk/img/media/e6ee1c943b709e00e958400ea9a1c34cbd86f923/0_150_2706_1624/master/2706.jpg?width=860&quality=45&auto=format&fit=max&dpr=2&s=34df9bc4b34086a0c8e563e7c391bcd6″,"width":1720},{"src":"https://i.guim.co.uk/img/media/e6ee1c943b709e00e958400ea9a1c34cbd86f923/0_150_2706_1624/master/2706.jpg?width=780&quality=85&auto=format&fit=max&s=d3b9ed82de9e2a68cd9ea07dcbcc860a","width":780},{"src":"https://i.guim.co.uk/img/media/e6ee1c943b709e00e958400ea9a1c34cbd86f923/0_150_2706_1624/master/2706.jpg?width=780&quality=45&auto=format&fit=max&dpr=2&s=de23fa576ff8fa49cabedd8e44c6cfad","width":1560},{"src":"https://i.guim.co.uk/img/media/e6ee1c943b709e00e958400ea9a1c34cbd86f923/0_150_2706_1624/master/2706.jpg?width=620&quality=85&auto=format&fit=max&s=27ac82e299e59e3bdf7724b98c5e235b","width":620},{"src":"https://i.guim.co.uk/img/media/e6ee1c943b709e00e958400ea9a1c34cbd86f923/0_150_2706_1624/master/2706.jpg?width=620&quality=45&auto=format&fit=max&dpr=2&s=f8450ab609e8015173c8b96a1d7fd2e1″,"width":1240},{"src":"https://i.guim.co.uk/img/media/e6ee1c943b709e00e958400ea9a1c34cbd86f923/0_150_2706_1624/master/2706.jpg?width=605&quality=85&auto=format&fit=max&s=a56983d3d45683455ad97bd28fdc0b8d","width":605},{"src":"https://i.guim.co.uk/img/media/e6ee1c943b709e00e958400ea9a1c34cbd86f923/0_150_2706_1624/master/2706.jpg?width=605&quality=45&auto=format&fit=max&dpr=2&s=89d16c402e72ff5cfe65d1d752ad4b89″,"width":1210},{"src":"https://i.guim.co.uk/img/media/e6ee1c943b709e00e958400ea9a1c34cbd86f923/0_150_2706_1624/master/2706.jpg?width=445&quality=85&auto=format&fit=max&s=9742f514ab2f168f2d04e879b203259c","width":445},{"src":"https://i.guim.co.uk/img/media/e6ee1c943b709e00e958400ea9a1c34cbd86f923/0_150_2706_1624/master/2706.jpg?width=445&quality=45&auto=format&fit=max&dpr=2&s=a3c14f6bc26c456f631b78927293d9de","width":890}]},{"weighting":"halfwidth","srcSet":[{"src":"https://i.guim.co.uk/img/media/e6ee1c943b709e00e958400ea9a1c34cbd86f923/0_150_2706_1624/master/2706.jpg?width=620&quality=85&auto=format&fit=max&s=27ac82e299e59e3bdf7724b98c5e235b","width":620},{"src":"https://i.guim.co.uk/img/media/e6ee1c943b709e00e958400ea9a1c34cbd86f923/0_150_2706_1624/master/2706.jpg?width=620&quality=45&auto=format&fit=max&dpr=2&s=f8450ab609e8015173c8b96a1d7fd2e1″,"width":1240},{"src":"https://i.guim.co.uk/img/media/e6ee1c943b709e00e958400ea9a1c34cbd86f923/0_150_2706_1624/master/2706.jpg?width=605&quality=85&auto=format&fit=max&s=a56983d3d45683455ad97bd28fdc0b8d","width":605},{"src":"https://i.guim.co.uk/img/media/e6ee1c943b709e00e958400ea9a1c34cbd86f923/0_150_2706_1624/master/2706.jpg?width=605&quality=45&auto=format&fit=max&dpr=2&s=89d16c402e72ff5cfe65d1d752ad4b89″,"width":1210},{"src":"https://i.guim.co.uk/img/media/e6ee1c943b709e00e958400ea9a1c34cbd86f923/0_150_2706_1624/master/2706.jpg?width=445&quality=85&auto=format&fit=max&s=9742f514ab2f168f2d04e879b203259c","width":445},{"src":"https://i.guim.co.uk/img/media/e6ee1c943b709e00e958400ea9a1c34cbd86f923/0_150_2706_1624/master/2706.jpg?width=445&quality=45&auto=format&fit=max&dpr=2&s=a3c14f6bc26c456f631b78927293d9de","width":890}]},{"weighting":"immersive","srcSet":[{"src":"https://i.guim.co.uk/img/media/e6ee1c943b709e00e958400ea9a1c34cbd86f923/0_150_2706_1624/master/2706.jpg?width=1900&quality=85&auto=format&fit=max&s=8f7c016c4be40f56d8b296858265edc9″,"width":1900},{"src":"https://i.guim.co.uk/img/media/e6ee1c943b709e00e958400ea9a1c34cbd86f923/0_150_2706_1624/master/2706.jpg?width=1900&quality=45&auto=format&fit=max&dpr=2&s=73aed8a2bae8670528aafaf4aa041ff7″,"width":3800},{"src":"https://i.guim.co.uk/img/media/e6ee1c943b709e00e958400ea9a1c34cbd86f923/0_150_2706_1624/master/2706.jpg?width=1300&quality=85&auto=format&fit=max&s=6d1ab19e4684d465b364240e52fadd7e","width":1300},{"src":"https://i.guim.co.uk/img/media/e6ee1c943b709e00e958400ea9a1c34cbd86f923/0_150_2706_1624/master/2706.jpg?width=1300&quality=45&auto=format&fit=max&dpr=2&s=eefaef326a710c6642b1a3f1001be7c6″,"width":2600},{"src":"https://i.guim.co.uk/img/media/e6ee1c943b709e00e958400ea9a1c34cbd86f923/0_150_2706_1624/master/2706.jpg?width=1140&quality=85&auto=format&fit=max&s=f69d2057ebccd166ac5c78dc938ba0f0″,"width":1140},{"src":"https://i.guim.co.uk/img/media/e6ee1c943b709e00e958400ea9a1c34cbd86f923/0_150_2706_1624/master/2706.jpg?width=1140&quality=45&auto=format&fit=max&dpr=2&s=2e336bd04a954e7672623946b3e20d64″,"width":2280},{"src":"https://i.guim.co.uk/img/media/e6ee1c943b709e00e958400ea9a1c34cbd86f923/0_150_2706_1624/master/2706.jpg?width=980&quality=85&auto=format&fit=max&s=db92e16548f2c32747631846f8012223″,"width":980},{"src":"https://i.guim.co.uk/img/media/e6ee1c943b709e00e958400ea9a1c34cbd86f923/0_150_2706_1624/master/2706.jpg?width=980&quality=45&auto=format&fit=max&dpr=2&s=01a2353a14478e2759dd86a3fc421394″,"width":1960},{"src":"https://i.guim.co.uk/img/media/e6ee1c943b709e00e958400ea9a1c34cbd86f923/0_150_2706_1624/master/2706.jpg?width=740&quality=85&auto=format&fit=max&s=c5e942a7c46bc2f784bac6dd3be2f510″,"width":740},{"src":"https://i.guim.co.uk/img/media/e6ee1c943b709e00e958400ea9a1c34cbd86f923/0_150_2706_1624/master/2706.jpg?width=740&quality=45&auto=format&fit=max&dpr=2&s=4c4693d678207051b40a29ac852743c0″,"width":1480},{"src":"https://i.guim.co.uk/img/media/e6ee1c943b709e00e958400ea9a1c34cbd86f923/0_150_2706_1624/master/2706.jpg?width=660&quality=85&auto=format&fit=max&s=c090d3dcc04f3d842e8ca2af6e604d73″,"width":660},{"src":"https://i.guim.co.uk/img/media/e6ee1c943b709e00e958400ea9a1c34cbd86f923/0_150_2706_1624/master/2706.jpg?width=660&quality=45&auto=format&fit=max&dpr=2&s=f6efa849ba1bfbdd37a9f53c0753b57a","width":1320},{"src":"https://i.guim.co.uk/img/media/e6ee1c943b709e00e958400ea9a1c34cbd86f923/0_150_2706_1624/master/2706.jpg?width=480&quality=85&auto=format&fit=max&s=50842cea3577b542bfdb7ed1c08d734b","width":480},{"src":"https://i.guim.co.uk/img/media/e6ee1c943b709e00e958400ea9a1c34cbd86f923/0_150_2706_1624/master/2706.jpg?width=480&quality=45&auto=format&fit=max&dpr=2&s=60b96bdc4f18bd49a2a8954151133dd4″,"width":960}]}],"elementId":"49f981b6-e857-4ce8-90a1-e530472967ef"}],"attributes":{"pinned":false,"keyEvent":true,"abstract":false},"blockCreatedOn":1668882851000,"blockCreatedOnDisplay":"18.34 GMT","blockLastUpdated":1668885375000,"blockLastUpdatedDisplay":"19.16 GMT","blockFirstPublished":1668882931000,"blockFirstPublishedDisplay":"18.35 GMT","blockFirstPublishedDisplayNoTimezone":"18.35″,"title":"GOAL! Arsenal 1-1 Manchester United (Maanum 46)","contributors":[],"primaryDateLine":"Sat 19 Nov 2022 20.07 GMT","secondaryDateLine":"First printed on Sat 19 Nov 2022 16.40 GMT"},{"id":"6379212a8f08958e0f818e62″,"components":[{"_type":"model.dotcomrendering.pageElements.TextBlockElement","html":"

46 min: United get the ball rolling for the second half with no changes in personnelo on either side after the break. Arsenal had just one shot on goal in the first half and have looked decidedly lacklustre.

","elementId":"23a5e661-4989-459e-98b7-75d0e42c0274″}],"attributes":{"pinned":false,"keyEvent":true,"abstract":false},"blockCreatedOn":1668882730000,"blockCreatedOnDisplay":"18.32 GMT","blockLastUpdated":1668882849000,"blockLastUpdatedDisplay":"18.34 GMT","blockFirstPublished":1668882849000,"blockFirstPublishedDisplay":"18.34 GMT","blockFirstPublishedDisplayNoTimezone":"18.34″,"title":"Second half: Arsenal 0-1 Manchester United","contributors":[],"primaryDateLine":"Sat 19 Nov 2022 20.07 GMT","secondaryDateLine":"First printed on Sat 19 Nov 2022 16.40 GMT"},{"id":"63791dda8f0874ab9710d5de","components":[{"_type":"model.dotcomrendering.pageElements.TextBlockElement","html":"

Peep! Kirsty Dowle draws the first half to a close, with Manchester United holding a surprise lead. It's no more than they deserve and they can feel aggrieved at not being further ahead. Shortly after capitalising on a Zinsberger error to go one up through Ella Toone, Manchester United should have been awarded a penalty for a Katie McCabe foul on Nikita Parris.

","elementId":"9321b17e-a299-407f-a2d5-f524e4b19926″}],"attributes":{"pinned":false,"keyEvent":true,"abstract":false},"blockCreatedOn":1668881882000,"blockCreatedOnDisplay":"18.18 GMT","blockLastUpdated":1668882008000,"blockLastUpdatedDisplay":"18.20 GMT","blockFirstPublished":1668882008000,"blockFirstPublishedDisplay":"18.20 GMT","blockFirstPublishedDisplayNoTimezone":"18.20″,"title":"Half-time: Arsenal 0-1 Manchester United","contributors":[],"primaryDateLine":"Sat 19 Nov 2022 20.07 GMT","secondaryDateLine":"First printed on Sat 19 Nov 2022 16.40 GMT"},{"id":"63791b5e8f088c5c88611f8f","components":[{"_type":"model.dotcomrendering.pageElements.TextBlockElement","html":"

United lead! Ella Toone capitalises on an error from Arsenal goalkeeper Manuela Zinsberge to sidefoot the ball home at the far post.

","elementId":"e7f85c34-a490-4cac-86a0-340f12d3deee"},{"_type":"model.dotcomrendering.pageElements.ImageBlockElement","media":{"allImages":[{"index":0,"fields":{"height":"2074″,"width":"3456″},"mediaType":"Image","mimeType":"image/jpeg","url":"https://media.guim.co.uk/815660dbd5cc57b883844e47aea3a7f980eb4952/4_0_3456_2074/3456.jpg"},{"index":1,"fields":{"isMaster":"true","height":"2074″,"width":"3456″},"mediaType":"Image","mimeType":"image/jpeg","url":"https://media.guim.co.uk/815660dbd5cc57b883844e47aea3a7f980eb4952/4_0_3456_2074/master/3456.jpg"},{"index":2,"fields":{"height":"1200″,"width":"2000″},"mediaType":"Image","mimeType":"image/jpeg","url":"https://media.guim.co.uk/815660dbd5cc57b883844e47aea3a7f980eb4952/4_0_3456_2074/2000.jpg"},{"index":3,"fields":{"height":"600″,"width":"1000″},"mediaType":"Image","mimeType":"image/jpeg","url":"https://media.guim.co.uk/815660dbd5cc57b883844e47aea3a7f980eb4952/4_0_3456_2074/1000.jpg"},{"index":4,"fields":{"height":"300″,"width":"500″},"mediaType":"Image","mimeType":"image/jpeg","url":"https://media.guim.co.uk/815660dbd5cc57b883844e47aea3a7f980eb4952/4_0_3456_2074/500.jpg"},{"index":5,"fields":{"height":"84″,"width":"140″},"mediaType":"Image","mimeType":"image/jpeg","url":"https://media.guim.co.uk/815660dbd5cc57b883844e47aea3a7f980eb4952/4_0_3456_2074/140.jpg"}]},"information":{"alt":"Manchester United's Ella Toone scores their first objective.","caption":"Manchester United's Ella Toone scores their first objective.","credit score":"{Photograph}: Andrew Boyers/Motion Photographs/Reuters"},"displayCredit":true,"position":"inline","imageSources":[{"weighting":"inline","srcSet":[{"src":"https://i.guim.co.uk/img/media/815660dbd5cc57b883844e47aea3a7f980eb4952/4_0_3456_2074/master/3456.jpg?width=620&quality=85&auto=format&fit=max&s=e62ff22baae9bbf987d111d139c63814″,"width":620},{"src":"https://i.guim.co.uk/img/media/815660dbd5cc57b883844e47aea3a7f980eb4952/4_0_3456_2074/master/3456.jpg?width=620&quality=45&auto=format&fit=max&dpr=2&s=894ead41f966a7e0027665dc7fadf002″,"width":1240},{"src":"https://i.guim.co.uk/img/media/815660dbd5cc57b883844e47aea3a7f980eb4952/4_0_3456_2074/master/3456.jpg?width=605&quality=85&auto=format&fit=max&s=5dc9e5804cc32ef62f46d290c4dcb651″,"width":605},{"src":"https://i.guim.co.uk/img/media/815660dbd5cc57b883844e47aea3a7f980eb4952/4_0_3456_2074/master/3456.jpg?width=605&quality=45&auto=format&fit=max&dpr=2&s=cf501f5ec4d6e95d80f7f3ab9654be14″,"width":1210},{"src":"https://i.guim.co.uk/img/media/815660dbd5cc57b883844e47aea3a7f980eb4952/4_0_3456_2074/master/3456.jpg?width=445&quality=85&auto=format&fit=max&s=ade83d47fe14b9598db0e450aa931a01″,"width":445},{"src":"https://i.guim.co.uk/img/media/815660dbd5cc57b883844e47aea3a7f980eb4952/4_0_3456_2074/master/3456.jpg?width=445&quality=45&auto=format&fit=max&dpr=2&s=c1312c9d8d4de574b2e3e4d67bf1e20d","width":890}]},{"weighting":"thumbnail","srcSet":[{"src":"https://i.guim.co.uk/img/media/815660dbd5cc57b883844e47aea3a7f980eb4952/4_0_3456_2074/master/3456.jpg?width=140&quality=85&auto=format&fit=max&s=b678b5a457864e1f294150a8f2cdf2be","width":140},{"src":"https://i.guim.co.uk/img/media/815660dbd5cc57b883844e47aea3a7f980eb4952/4_0_3456_2074/master/3456.jpg?width=140&quality=45&auto=format&fit=max&dpr=2&s=6836219ead8932f8561d35b5fe21613e","width":280},{"src":"https://i.guim.co.uk/img/media/815660dbd5cc57b883844e47aea3a7f980eb4952/4_0_3456_2074/master/3456.jpg?width=120&quality=85&auto=format&fit=max&s=87a6162e1bca8cd7ed593ad25fb73af2″,"width":120},{"src":"https://i.guim.co.uk/img/media/815660dbd5cc57b883844e47aea3a7f980eb4952/4_0_3456_2074/master/3456.jpg?width=120&quality=45&auto=format&fit=max&dpr=2&s=aeef999b73e725f071fee495e2dc9440″,"width":240}]},{"weighting":"supporting","srcSet":[{"src":"https://i.guim.co.uk/img/media/815660dbd5cc57b883844e47aea3a7f980eb4952/4_0_3456_2074/master/3456.jpg?width=380&quality=85&auto=format&fit=max&s=c2dbac70c0a021be64491a513757cf14″,"width":380},{"src":"https://i.guim.co.uk/img/media/815660dbd5cc57b883844e47aea3a7f980eb4952/4_0_3456_2074/master/3456.jpg?width=380&quality=45&auto=format&fit=max&dpr=2&s=6a8b214b8f8c8cab9644d564887f6894″,"width":760},{"src":"https://i.guim.co.uk/img/media/815660dbd5cc57b883844e47aea3a7f980eb4952/4_0_3456_2074/master/3456.jpg?width=300&quality=85&auto=format&fit=max&s=d648deb8c22f94669875d693090d0bf7″,"width":300},{"src":"https://i.guim.co.uk/img/media/815660dbd5cc57b883844e47aea3a7f980eb4952/4_0_3456_2074/master/3456.jpg?width=300&quality=45&auto=format&fit=max&dpr=2&s=52fce509341bee92e23d76c9d21f4983″,"width":600},{"src":"https://i.guim.co.uk/img/media/815660dbd5cc57b883844e47aea3a7f980eb4952/4_0_3456_2074/master/3456.jpg?width=620&quality=85&auto=format&fit=max&s=e62ff22baae9bbf987d111d139c63814″,"width":620},{"src":"https://i.guim.co.uk/img/media/815660dbd5cc57b883844e47aea3a7f980eb4952/4_0_3456_2074/master/3456.jpg?width=620&quality=45&auto=format&fit=max&dpr=2&s=894ead41f966a7e0027665dc7fadf002″,"width":1240},{"src":"https://i.guim.co.uk/img/media/815660dbd5cc57b883844e47aea3a7f980eb4952/4_0_3456_2074/master/3456.jpg?width=605&quality=85&auto=format&fit=max&s=5dc9e5804cc32ef62f46d290c4dcb651″,"width":605},{"src":"https://i.guim.co.uk/img/media/815660dbd5cc57b883844e47aea3a7f980eb4952/4_0_3456_2074/master/3456.jpg?width=605&quality=45&auto=format&fit=max&dpr=2&s=cf501f5ec4d6e95d80f7f3ab9654be14″,"width":1210},{"src":"https://i.guim.co.uk/img/media/815660dbd5cc57b883844e47aea3a7f980eb4952/4_0_3456_2074/master/3456.jpg?width=445&quality=85&auto=format&fit=max&s=ade83d47fe14b9598db0e450aa931a01″,"width":445},{"src":"https://i.guim.co.uk/img/media/815660dbd5cc57b883844e47aea3a7f980eb4952/4_0_3456_2074/master/3456.jpg?width=445&quality=45&auto=format&fit=max&dpr=2&s=c1312c9d8d4de574b2e3e4d67bf1e20d","width":890}]},{"weighting":"showcase","srcSet":[{"src":"https://i.guim.co.uk/img/media/815660dbd5cc57b883844e47aea3a7f980eb4952/4_0_3456_2074/master/3456.jpg?width=860&quality=85&auto=format&fit=max&s=1b667ce277778c296ac48ff2eaf425d6″,"width":860},{"src":"https://i.guim.co.uk/img/media/815660dbd5cc57b883844e47aea3a7f980eb4952/4_0_3456_2074/master/3456.jpg?width=860&quality=45&auto=format&fit=max&dpr=2&s=76a991cc911a7abe09bb0c4c20fa4835″,"width":1720},{"src":"https://i.guim.co.uk/img/media/815660dbd5cc57b883844e47aea3a7f980eb4952/4_0_3456_2074/master/3456.jpg?width=780&quality=85&auto=format&fit=max&s=3da44204c00f05bdd88b30d010249750″,"width":780},{"src":"https://i.guim.co.uk/img/media/815660dbd5cc57b883844e47aea3a7f980eb4952/4_0_3456_2074/master/3456.jpg?width=780&quality=45&auto=format&fit=max&dpr=2&s=70623a46c8802ebdbf7a2d1b35691778″,"width":1560},{"src":"https://i.guim.co.uk/img/media/815660dbd5cc57b883844e47aea3a7f980eb4952/4_0_3456_2074/master/3456.jpg?width=620&quality=85&auto=format&fit=max&s=e62ff22baae9bbf987d111d139c63814″,"width":620},{"src":"https://i.guim.co.uk/img/media/815660dbd5cc57b883844e47aea3a7f980eb4952/4_0_3456_2074/master/3456.jpg?width=620&quality=45&auto=format&fit=max&dpr=2&s=894ead41f966a7e0027665dc7fadf002″,"width":1240},{"src":"https://i.guim.co.uk/img/media/815660dbd5cc57b883844e47aea3a7f980eb4952/4_0_3456_2074/master/3456.jpg?width=605&quality=85&auto=format&fit=max&s=5dc9e5804cc32ef62f46d290c4dcb651″,"width":605},{"src":"https://i.guim.co.uk/img/media/815660dbd5cc57b883844e47aea3a7f980eb4952/4_0_3456_2074/master/3456.jpg?width=605&quality=45&auto=format&fit=max&dpr=2&s=cf501f5ec4d6e95d80f7f3ab9654be14″,"width":1210},{"src":"https://i.guim.co.uk/img/media/815660dbd5cc57b883844e47aea3a7f980eb4952/4_0_3456_2074/master/3456.jpg?width=445&quality=85&auto=format&fit=max&s=ade83d47fe14b9598db0e450aa931a01″,"width":445},{"src":"https://i.guim.co.uk/img/media/815660dbd5cc57b883844e47aea3a7f980eb4952/4_0_3456_2074/master/3456.jpg?width=445&quality=45&auto=format&fit=max&dpr=2&s=c1312c9d8d4de574b2e3e4d67bf1e20d","width":890}]},{"weighting":"halfwidth","srcSet":[{"src":"https://i.guim.co.uk/img/media/815660dbd5cc57b883844e47aea3a7f980eb4952/4_0_3456_2074/master/3456.jpg?width=620&quality=85&auto=format&fit=max&s=e62ff22baae9bbf987d111d139c63814″,"width":620},{"src":"https://i.guim.co.uk/img/media/815660dbd5cc57b883844e47aea3a7f980eb4952/4_0_3456_2074/master/3456.jpg?width=620&quality=45&auto=format&fit=max&dpr=2&s=894ead41f966a7e0027665dc7fadf002″,"width":1240},{"src":"https://i.guim.co.uk/img/media/815660dbd5cc57b883844e47aea3a7f980eb4952/4_0_3456_2074/master/3456.jpg?width=605&quality=85&auto=format&fit=max&s=5dc9e5804cc32ef62f46d290c4dcb651″,"width":605},{"src":"https://i.guim.co.uk/img/media/815660dbd5cc57b883844e47aea3a7f980eb4952/4_0_3456_2074/master/3456.jpg?width=605&quality=45&auto=format&fit=max&dpr=2&s=cf501f5ec4d6e95d80f7f3ab9654be14″,"width":1210},{"src":"https://i.guim.co.uk/img/media/815660dbd5cc57b883844e47aea3a7f980eb4952/4_0_3456_2074/master/3456.jpg?width=445&quality=85&auto=format&fit=max&s=ade83d47fe14b9598db0e450aa931a01″,"width":445},{"src":"https://i.guim.co.uk/img/media/815660dbd5cc57b883844e47aea3a7f980eb4952/4_0_3456_2074/master/3456.jpg?width=445&quality=45&auto=format&fit=max&dpr=2&s=c1312c9d8d4de574b2e3e4d67bf1e20d","width":890}]},{"weighting":"immersive","srcSet":[{"src":"https://i.guim.co.uk/img/media/815660dbd5cc57b883844e47aea3a7f980eb4952/4_0_3456_2074/master/3456.jpg?width=1900&quality=85&auto=format&fit=max&s=9c8fd5ad5f57c75c9b6c1daefb7c8798″,"width":1900},{"src":"https://i.guim.co.uk/img/media/815660dbd5cc57b883844e47aea3a7f980eb4952/4_0_3456_2074/master/3456.jpg?width=1900&quality=45&auto=format&fit=max&dpr=2&s=32d1aa2a72a92807e6267f5900491ee2″,"width":3800},{"src":"https://i.guim.co.uk/img/media/815660dbd5cc57b883844e47aea3a7f980eb4952/4_0_3456_2074/master/3456.jpg?width=1300&quality=85&auto=format&fit=max&s=39a9f738f89597e7569f0b8afa7aae9b","width":1300},{"src":"https://i.guim.co.uk/img/media/815660dbd5cc57b883844e47aea3a7f980eb4952/4_0_3456_2074/master/3456.jpg?width=1300&quality=45&auto=format&fit=max&dpr=2&s=4f349a245e8d3fed9bd24fe48a216d87″,"width":2600},{"src":"https://i.guim.co.uk/img/media/815660dbd5cc57b883844e47aea3a7f980eb4952/4_0_3456_2074/master/3456.jpg?width=1140&quality=85&auto=format&fit=max&s=a8e0f72f7438c319e17573b509906dac","width":1140},{"src":"https://i.guim.co.uk/img/media/815660dbd5cc57b883844e47aea3a7f980eb4952/4_0_3456_2074/master/3456.jpg?width=1140&quality=45&auto=format&fit=max&dpr=2&s=aacaf951fb728e8c49d877ad7db5cbcd","width":2280},{"src":"https://i.guim.co.uk/img/media/815660dbd5cc57b883844e47aea3a7f980eb4952/4_0_3456_2074/master/3456.jpg?width=980&quality=85&auto=format&fit=max&s=2b50314bb2250f327f3b4bff4a1e2be4″,"width":980},{"src":"https://i.guim.co.uk/img/media/815660dbd5cc57b883844e47aea3a7f980eb4952/4_0_3456_2074/master/3456.jpg?width=980&quality=45&auto=format&fit=max&dpr=2&s=48babded53e4e3585cc1e722c52bc424″,"width":1960},{"src":"https://i.guim.co.uk/img/media/815660dbd5cc57b883844e47aea3a7f980eb4952/4_0_3456_2074/master/3456.jpg?width=740&quality=85&auto=format&fit=max&s=747a7fdc5e55cf232ae0adf6a833eaa0″,"width":740},{"src":"https://i.guim.co.uk/img/media/815660dbd5cc57b883844e47aea3a7f980eb4952/4_0_3456_2074/master/3456.jpg?width=740&quality=45&auto=format&fit=max&dpr=2&s=557f021f2bdb77ecf2d97e256ea0baca","width":1480},{"src":"https://i.guim.co.uk/img/media/815660dbd5cc57b883844e47aea3a7f980eb4952/4_0_3456_2074/master/3456.jpg?width=660&quality=85&auto=format&fit=max&s=54c18fa39507a0aeedeebf795686c52d","width":660},{"src":"https://i.guim.co.uk/img/media/815660dbd5cc57b883844e47aea3a7f980eb4952/4_0_3456_2074/master/3456.jpg?width=660&quality=45&auto=format&fit=max&dpr=2&s=70500944833444c43ac3df0c82965833″,"width":1320},{"src":"https://i.guim.co.uk/img/media/815660dbd5cc57b883844e47aea3a7f980eb4952/4_0_3456_2074/master/3456.jpg?width=480&quality=85&auto=format&fit=max&s=39f0fef86d7d1ec542491fcec38bbcbd","width":480},{"src":"https://i.guim.co.uk/img/media/815660dbd5cc57b883844e47aea3a7f980eb4952/4_0_3456_2074/master/3456.jpg?width=480&quality=45&auto=format&fit=max&dpr=2&s=3375030ea72d593dea52364a464ffa3a","width":960}]}],"elementId":"2f504c7f-2e94-4a7a-84f2-73ecab5da07b"},{"_type":"mannequin.dotcomrendering.pageElements.ImageBlockElement","media":{"allImages":[{"index":0,"fields":{"height":"1530″,"width":"2551″},"mediaType":"Image","mimeType":"image/jpeg","url":"https://media.guim.co.uk/7bea44e93f92b6f8d5d762815f607aebf4ce108a/376_152_2551_1530/2551.jpg"},{"index":1,"fields":{"isMaster":"true","height":"1530″,"width":"2551″},"mediaType":"Image","mimeType":"image/jpeg","url":"https://media.guim.co.uk/7bea44e93f92b6f8d5d762815f607aebf4ce108a/376_152_2551_1530/master/2551.jpg"},{"index":2,"fields":{"height":"1200″,"width":"2000″},"mediaType":"Image","mimeType":"image/jpeg","url":"https://media.guim.co.uk/7bea44e93f92b6f8d5d762815f607aebf4ce108a/376_152_2551_1530/2000.jpg"},{"index":3,"fields":{"height":"600″,"width":"1000″},"mediaType":"Image","mimeType":"image/jpeg","url":"https://media.guim.co.uk/7bea44e93f92b6f8d5d762815f607aebf4ce108a/376_152_2551_1530/1000.jpg"},{"index":4,"fields":{"height":"300″,"width":"500″},"mediaType":"Image","mimeType":"image/jpeg","url":"https://media.guim.co.uk/7bea44e93f92b6f8d5d762815f607aebf4ce108a/376_152_2551_1530/500.jpg"},{"index":5,"fields":{"height":"84″,"width":"140″},"mediaType":"Image","mimeType":"image/jpeg","url":"https://media.guim.co.uk/7bea44e93f92b6f8d5d762815f607aebf4ce108a/376_152_2551_1530/140.jpg"}]},"information":{"alt":"Manchester United's Ella Toone celebrates after opening the scoring.","caption":"And celebrates.","credit score":"{Photograph}: Andrew Boyers/Motion Photographs/Reuters"},"displayCredit":true,"position":"inline","imageSources":[{"weighting":"inline","srcSet":[{"src":"https://i.guim.co.uk/img/media/7bea44e93f92b6f8d5d762815f607aebf4ce108a/376_152_2551_1530/master/2551.jpg?width=620&quality=85&auto=format&fit=max&s=61eb9e7214e0dbd9da00db6f5733a396″,"width":620},{"src":"https://i.guim.co.uk/img/media/7bea44e93f92b6f8d5d762815f607aebf4ce108a/376_152_2551_1530/master/2551.jpg?width=620&quality=45&auto=format&fit=max&dpr=2&s=8b7b1a37f3d48a9ed1d5b62af6700026″,"width":1240},{"src":"https://i.guim.co.uk/img/media/7bea44e93f92b6f8d5d762815f607aebf4ce108a/376_152_2551_1530/master/2551.jpg?width=605&quality=85&auto=format&fit=max&s=7507aaa253a3a850c3d1c1d2b65a45b1″,"width":605},{"src":"https://i.guim.co.uk/img/media/7bea44e93f92b6f8d5d762815f607aebf4ce108a/376_152_2551_1530/master/2551.jpg?width=605&quality=45&auto=format&fit=max&dpr=2&s=95f82e01a4fe7ef9a7f7c5615001c90d","width":1210},{"src":"https://i.guim.co.uk/img/media/7bea44e93f92b6f8d5d762815f607aebf4ce108a/376_152_2551_1530/master/2551.jpg?width=445&quality=85&auto=format&fit=max&s=0200a44829fdeb93e0641598e64bcd62″,"width":445},{"src":"https://i.guim.co.uk/img/media/7bea44e93f92b6f8d5d762815f607aebf4ce108a/376_152_2551_1530/master/2551.jpg?width=445&quality=45&auto=format&fit=max&dpr=2&s=74c174284f9be713ce782eb5cf664815″,"width":890}]},{"weighting":"thumbnail","srcSet":[{"src":"https://i.guim.co.uk/img/media/7bea44e93f92b6f8d5d762815f607aebf4ce108a/376_152_2551_1530/master/2551.jpg?width=140&quality=85&auto=format&fit=max&s=fc24402a9ca7aeb357b12d92e803bc03″,"width":140},{"src":"https://i.guim.co.uk/img/media/7bea44e93f92b6f8d5d762815f607aebf4ce108a/376_152_2551_1530/master/2551.jpg?width=140&quality=45&auto=format&fit=max&dpr=2&s=b72178e48a3eefec9294d18c33111ad7″,"width":280},{"src":"https://i.guim.co.uk/img/media/7bea44e93f92b6f8d5d762815f607aebf4ce108a/376_152_2551_1530/master/2551.jpg?width=120&quality=85&auto=format&fit=max&s=6d22a9339e335f76764b8118b36a97c6″,"width":120},{"src":"https://i.guim.co.uk/img/media/7bea44e93f92b6f8d5d762815f607aebf4ce108a/376_152_2551_1530/master/2551.jpg?width=120&quality=45&auto=format&fit=max&dpr=2&s=ab7959dc91dd21bae647768bc64e637c","width":240}]},{"weighting":"supporting","srcSet":[{"src":"https://i.guim.co.uk/img/media/7bea44e93f92b6f8d5d762815f607aebf4ce108a/376_152_2551_1530/master/2551.jpg?width=380&quality=85&auto=format&fit=max&s=903fc064862f421851cfc1168cb55349″,"width":380},{"src":"https://i.guim.co.uk/img/media/7bea44e93f92b6f8d5d762815f607aebf4ce108a/376_152_2551_1530/master/2551.jpg?width=380&quality=45&auto=format&fit=max&dpr=2&s=e2cccff3587d74f7021b3e7873111ac5″,"width":760},{"src":"https://i.guim.co.uk/img/media/7bea44e93f92b6f8d5d762815f607aebf4ce108a/376_152_2551_1530/master/2551.jpg?width=300&quality=85&auto=format&fit=max&s=04724169bd968199724f755742968281″,"width":300},{"src":"https://i.guim.co.uk/img/media/7bea44e93f92b6f8d5d762815f607aebf4ce108a/376_152_2551_1530/master/2551.jpg?width=300&quality=45&auto=format&fit=max&dpr=2&s=19fd2fac24f16641ce69fe8b4ccdafc3″,"width":600},{"src":"https://i.guim.co.uk/img/media/7bea44e93f92b6f8d5d762815f607aebf4ce108a/376_152_2551_1530/master/2551.jpg?width=620&quality=85&auto=format&fit=max&s=61eb9e7214e0dbd9da00db6f5733a396″,"width":620},{"src":"https://i.guim.co.uk/img/media/7bea44e93f92b6f8d5d762815f607aebf4ce108a/376_152_2551_1530/master/2551.jpg?width=620&quality=45&auto=format&fit=max&dpr=2&s=8b7b1a37f3d48a9ed1d5b62af6700026″,"width":1240},{"src":"https://i.guim.co.uk/img/media/7bea44e93f92b6f8d5d762815f607aebf4ce108a/376_152_2551_1530/master/2551.jpg?width=605&quality=85&auto=format&fit=max&s=7507aaa253a3a850c3d1c1d2b65a45b1″,"width":605},{"src":"https://i.guim.co.uk/img/media/7bea44e93f92b6f8d5d762815f607aebf4ce108a/376_152_2551_1530/master/2551.jpg?width=605&quality=45&auto=format&fit=max&dpr=2&s=95f82e01a4fe7ef9a7f7c5615001c90d","width":1210},{"src":"https://i.guim.co.uk/img/media/7bea44e93f92b6f8d5d762815f607aebf4ce108a/376_152_2551_1530/master/2551.jpg?width=445&quality=85&auto=format&fit=max&s=0200a44829fdeb93e0641598e64bcd62″,"width":445},{"src":"https://i.guim.co.uk/img/media/7bea44e93f92b6f8d5d762815f607aebf4ce108a/376_152_2551_1530/master/2551.jpg?width=445&quality=45&auto=format&fit=max&dpr=2&s=74c174284f9be713ce782eb5cf664815″,"width":890}]},{"weighting":"showcase","srcSet":[{"src":"https://i.guim.co.uk/img/media/7bea44e93f92b6f8d5d762815f607aebf4ce108a/376_152_2551_1530/master/2551.jpg?width=860&quality=85&auto=format&fit=max&s=7a76eac03bfdbe48fb70e92d4d04e797″,"width":860},{"src":"https://i.guim.co.uk/img/media/7bea44e93f92b6f8d5d762815f607aebf4ce108a/376_152_2551_1530/master/2551.jpg?width=860&quality=45&auto=format&fit=max&dpr=2&s=55344f8b110360ff4d3bea00fc6f4df1″,"width":1720},{"src":"https://i.guim.co.uk/img/media/7bea44e93f92b6f8d5d762815f607aebf4ce108a/376_152_2551_1530/master/2551.jpg?width=780&quality=85&auto=format&fit=max&s=afbc75fb3e21cb3bf5f57095df296835″,"width":780},{"src":"https://i.guim.co.uk/img/media/7bea44e93f92b6f8d5d762815f607aebf4ce108a/376_152_2551_1530/master/2551.jpg?width=780&quality=45&auto=format&fit=max&dpr=2&s=ea8f4bf8457e6e457623064f1b099189″,"width":1560},{"src":"https://i.guim.co.uk/img/media/7bea44e93f92b6f8d5d762815f607aebf4ce108a/376_152_2551_1530/master/2551.jpg?width=620&quality=85&auto=format&fit=max&s=61eb9e7214e0dbd9da00db6f5733a396″,"width":620},{"src":"https://i.guim.co.uk/img/media/7bea44e93f92b6f8d5d762815f607aebf4ce108a/376_152_2551_1530/master/2551.jpg?width=620&quality=45&auto=format&fit=max&dpr=2&s=8b7b1a37f3d48a9ed1d5b62af6700026″,"width":1240},{"src":"https://i.guim.co.uk/img/media/7bea44e93f92b6f8d5d762815f607aebf4ce108a/376_152_2551_1530/master/2551.jpg?width=605&quality=85&auto=format&fit=max&s=7507aaa253a3a850c3d1c1d2b65a45b1″,"width":605},{"src":"https://i.guim.co.uk/img/media/7bea44e93f92b6f8d5d762815f607aebf4ce108a/376_152_2551_1530/master/2551.jpg?width=605&quality=45&auto=format&fit=max&dpr=2&s=95f82e01a4fe7ef9a7f7c5615001c90d","width":1210},{"src":"https://i.guim.co.uk/img/media/7bea44e93f92b6f8d5d762815f607aebf4ce108a/376_152_2551_1530/master/2551.jpg?width=445&quality=85&auto=format&fit=max&s=0200a44829fdeb93e0641598e64bcd62″,"width":445},{"src":"https://i.guim.co.uk/img/media/7bea44e93f92b6f8d5d762815f607aebf4ce108a/376_152_2551_1530/master/2551.jpg?width=445&quality=45&auto=format&fit=max&dpr=2&s=74c174284f9be713ce782eb5cf664815″,"width":890}]},{"weighting":"halfwidth","srcSet":[{"src":"https://i.guim.co.uk/img/media/7bea44e93f92b6f8d5d762815f607aebf4ce108a/376_152_2551_1530/master/2551.jpg?width=620&quality=85&auto=format&fit=max&s=61eb9e7214e0dbd9da00db6f5733a396″,"width":620},{"src":"https://i.guim.co.uk/img/media/7bea44e93f92b6f8d5d762815f607aebf4ce108a/376_152_2551_1530/master/2551.jpg?width=620&quality=45&auto=format&fit=max&dpr=2&s=8b7b1a37f3d48a9ed1d5b62af6700026″,"width":1240},{"src":"https://i.guim.co.uk/img/media/7bea44e93f92b6f8d5d762815f607aebf4ce108a/376_152_2551_1530/master/2551.jpg?width=605&quality=85&auto=format&fit=max&s=7507aaa253a3a850c3d1c1d2b65a45b1″,"width":605},{"src":"https://i.guim.co.uk/img/media/7bea44e93f92b6f8d5d762815f607aebf4ce108a/376_152_2551_1530/master/2551.jpg?width=605&quality=45&auto=format&fit=max&dpr=2&s=95f82e01a4fe7ef9a7f7c5615001c90d","width":1210},{"src":"https://i.guim.co.uk/img/media/7bea44e93f92b6f8d5d762815f607aebf4ce108a/376_152_2551_1530/master/2551.jpg?width=445&quality=85&auto=format&fit=max&s=0200a44829fdeb93e0641598e64bcd62″,"width":445},{"src":"https://i.guim.co.uk/img/media/7bea44e93f92b6f8d5d762815f607aebf4ce108a/376_152_2551_1530/master/2551.jpg?width=445&quality=45&auto=format&fit=max&dpr=2&s=74c174284f9be713ce782eb5cf664815″,"width":890}]},{"weighting":"immersive","srcSet":[{"src":"https://i.guim.co.uk/img/media/7bea44e93f92b6f8d5d762815f607aebf4ce108a/376_152_2551_1530/master/2551.jpg?width=1900&quality=85&auto=format&fit=max&s=39d5e76125f97f5c24854b9939cb44c2″,"width":1900},{"src":"https://i.guim.co.uk/img/media/7bea44e93f92b6f8d5d762815f607aebf4ce108a/376_152_2551_1530/master/2551.jpg?width=1900&quality=45&auto=format&fit=max&dpr=2&s=2bdd5a3842fee49cc311ebfb1b5eda6a","width":3800},{"src":"https://i.guim.co.uk/img/media/7bea44e93f92b6f8d5d762815f607aebf4ce108a/376_152_2551_1530/master/2551.jpg?width=1300&quality=85&auto=format&fit=max&s=519dc1a50a2ddea907f978c35f5329e0″,"width":1300},{"src":"https://i.guim.co.uk/img/media/7bea44e93f92b6f8d5d762815f607aebf4ce108a/376_152_2551_1530/master/2551.jpg?width=1300&quality=45&auto=format&fit=max&dpr=2&s=736053798858d4292ba88a22b9970519″,"width":2600},{"src":"https://i.guim.co.uk/img/media/7bea44e93f92b6f8d5d762815f607aebf4ce108a/376_152_2551_1530/master/2551.jpg?width=1140&quality=85&auto=format&fit=max&s=33c8e51a0eb5395b20dc169d69ee1d99″,"width":1140},{"src":"https://i.guim.co.uk/img/media/7bea44e93f92b6f8d5d762815f607aebf4ce108a/376_152_2551_1530/master/2551.jpg?width=1140&quality=45&auto=format&fit=max&dpr=2&s=483f6a5effa78ec1e6902bbcf476700a","width":2280},{"src":"https://i.guim.co.uk/img/media/7bea44e93f92b6f8d5d762815f607aebf4ce108a/376_152_2551_1530/master/2551.jpg?width=980&quality=85&auto=format&fit=max&s=f2c610f1eadf409576f92c72b550f2dc","width":980},{"src":"https://i.guim.co.uk/img/media/7bea44e93f92b6f8d5d762815f607aebf4ce108a/376_152_2551_1530/master/2551.jpg?width=980&quality=45&auto=format&fit=max&dpr=2&s=b480ea01db302392cec38e6c98996a5e","width":1960},{"src":"https://i.guim.co.uk/img/media/7bea44e93f92b6f8d5d762815f607aebf4ce108a/376_152_2551_1530/master/2551.jpg?width=740&quality=85&auto=format&fit=max&s=2a22eb645192dc301128834faec15432″,"width":740},{"src":"https://i.guim.co.uk/img/media/7bea44e93f92b6f8d5d762815f607aebf4ce108a/376_152_2551_1530/master/2551.jpg?width=740&quality=45&auto=format&fit=max&dpr=2&s=5c07224617382920dd51a2bacccf0ba5″,"width":1480},{"src":"https://i.guim.co.uk/img/media/7bea44e93f92b6f8d5d762815f607aebf4ce108a/376_152_2551_1530/master/2551.jpg?width=660&quality=85&auto=format&fit=max&s=ee19ced7d23efbf28f5dec5b84689ef0″,"width":660},{"src":"https://i.guim.co.uk/img/media/7bea44e93f92b6f8d5d762815f607aebf4ce108a/376_152_2551_1530/master/2551.jpg?width=660&quality=45&auto=format&fit=max&dpr=2&s=1ee596dad38506d39e1d378bc064dded","width":1320},{"src":"https://i.guim.co.uk/img/media/7bea44e93f92b6f8d5d762815f607aebf4ce108a/376_152_2551_1530/master/2551.jpg?width=480&quality=85&auto=format&fit=max&s=0da2d9af050cfec54731ca80c75217ce","width":480},{"src":"https://i.guim.co.uk/img/media/7bea44e93f92b6f8d5d762815f607aebf4ce108a/376_152_2551_1530/master/2551.jpg?width=480&quality=45&auto=format&fit=max&dpr=2&s=57633255bd8dbc243e1446e85d901ff8″,"width":960}]}],"elementId":"d6b336f6-6a46-4ce3-b2a8-e6836dcd748b"}],"attributes":{"pinned":false,"keyEvent":true,"abstract":false},"blockCreatedOn":1668881246000,"blockCreatedOnDisplay":"18.07 GMT","blockLastUpdated":1668883648000,"blockLastUpdatedDisplay":"18.47 GMT","blockFirstPublished":1668881433000,"blockFirstPublishedDisplay":"18.10 GMT","blockFirstPublishedDisplayNoTimezone":"18.10″,"title":"GOAL! Arsenal 0-1 Manchester United (Toone 39)","contributors":[],"primaryDateLine":"Sat 19 Nov 2022 20.07 GMT","secondaryDateLine":"First printed on Sat 19 Nov 2022 16.40 GMT"},{"id":"6379124c8f0874ab9710d540″,"components":[{"_type":"model.dotcomrendering.pageElements.TextBlockElement","html":"

1 min: Following an impeccably observed minute's silence, the game kicks off with Arsenal getting the ball rolling. Their players wear red shirts, white shorts and red socks. The players of Manchester United wear lime green shirts, black shorts and lime green socks.

","elementId":"c9f0f3cd-0aae-44b2-b493-9d364c29d04d"}],"attributes":{"pinned":false,"keyEvent":true,"abstract":false},"blockCreatedOn":1668878924000,"blockCreatedOnDisplay":"17.28 GMT","blockLastUpdated":1668879076000,"blockLastUpdatedDisplay":"17.31 GMT","blockFirstPublished":1668879076000,"blockFirstPublishedDisplay":"17.31 GMT","blockFirstPublishedDisplayNoTimezone":"17.31″,"title":"Arsenal v Manchester United is go!","contributors":[],"primaryDateLine":"Sat 19 Nov 2022 20.07 GMT","secondaryDateLine":"First printed on Sat 19 Nov 2022 16.40 GMT"},{"id":"637909dc8f0874ab9710d50b","components":[{"_type":"model.dotcomrendering.pageElements.TextBlockElement","html":"

Arsenal: Zinsberger; Wienroither, Mubben-Woy, Catley, McCabe; Walti, Nobbs, Maanum; Mead, Foord, Blackstenius.

","elementId":"46ebeebf-ad50-48fd-9888-54fcfe398af9″},{"_type":"model.dotcomrendering.pageElements.TextBlockElement","html":"

Subs: Marckese, Beattie, Maritz, Reid, Miedema, Iwabuchi, Earl, Agyemang.

","elementId":"afa7ca73-cf08-4e29-9845-6b7b4dbd9c12″},{"_type":"model.dotcomrendering.pageElements.TextBlockElement","html":"

Manchester United: Earps; Batlle, Le Tissier, Turner, Blundell; Ladd, Zelem; Parris, Toone, Galton; Russo.

","elementId":"8aa891cb-748b-4c17-8784-4cca78059c5f"},{"_type":"model.dotcomrendering.pageElements.TextBlockElement","html":"

Subs: Baggaley, Thorisdottir, Tounkara, Boe Risa, Moore, Staniforth, L. Garcia, Thomas, Williams.

","elementId":"74bbf3c5-e368-4a6e-96f9-be69689a7628″}],"attributes":{"pinned":false,"keyEvent":true,"abstract":false},"blockCreatedOn":1668876764000,"blockCreatedOnDisplay":"16.52 GMT","blockLastUpdated":1668876847000,"blockLastUpdatedDisplay":"16.54 GMT","blockFirstPublished":1668876847000,"blockFirstPublishedDisplay":"16.54 GMT","blockFirstPublishedDisplayNoTimezone":"16.54″,"title":"Arsenal v Manchester United line-ups","contributors":[],"primaryDateLine":"Sat 19 Nov 2022 20.07 GMT","secondaryDateLine":"First printed on Sat 19 Nov 2022 16.40 GMT"},{"id":"637786f08f088c5c886112c2″,"components":[{"_type":"model.dotcomrendering.pageElements.TextBlockElement","html":"

A crowd of over 35,000 is expected at the Emirates for this evening's crunch match between league leaders Arsenal and Manchester United, who sit third but will go level on points with their hosts should they win.

","elementId":"4d2ee557-fe37-4670-bd72-56fe6a032986″},{"_type":"model.dotcomrendering.pageElements.TextBlockElement","html":"

Sandwiched between the two teams, behind Arsenal on goal difference having played a game more, Chelsea host Tottenham at lunchtime tomorrow. Kick-off in north London is at 5.30pm (GMT) but stay tuned in the meantime for team news and build-up.

","elementId":"98aa9015-a5cf-4780-a338-fae113055498″},{"_type":"model.dotcomrendering.pageElements.TextBlockElement","html":"

","elementId":"5b577ac1-81d8-44ed-b21a-e75cc5a16cf9″}],"attributes":{"pinned":false,"keyEvent":true,"abstract":false},"blockCreatedOn":1668876045000,"blockCreatedOnDisplay":"16.40 GMT","blockLastUpdated":1668875977000,"blockLastUpdatedDisplay":"16.39 GMT","blockFirstPublished":1668876045000,"blockFirstPublishedDisplay":"16.40 GMT","blockFirstPublishedDisplayNoTimezone":"16.40″,"title":"WSL: Arsenal v Manchester United","contributors":[],"primaryDateLine":"Sat 19 Nov 2022 20.07 GMT","secondaryDateLine":"First printed on Sat 19 Nov 2022 16.40 GMT"}],"filterKeyEvents":false,"format":{"show":0,"theme":2,"design":11},"id":"key-events-carousel-mobile"}">

Necessary occasions
Match report: Arsenal 2-3 Manchester United
WSL: Alicia Russo's injury-time header helped Manchester United get well from a second-half collapse to finish Arsenal's finest begin to the season with an exhilarating 3-2 win on the Emirates Stadium, writes Suzanne Rick. Parity achieved on the high.
Alessia Russo says: "The entire second half was a whirlwind," the United striker instructed Sky. "We come into these video games and need to check ourselves and are available away with three factors so we're actually pleased. Katie Zelm and I've a great relationship on set items. I do know the place she desires to hit and I Simply tried to get my physique in entrance of the ball. I simply used just a little energy and hit the goal.
On United's earthquake outcome: "The outcome displays that perception, the second we acknowledged that we got here as a bunch and we had an trustworthy dialog," she says. "We knew we needed to win it and we knew we may so it is nearly discovering that additional motivation."
Mark Skinner says: "I am stunned I can nonetheless discuss," the Manchester United supervisor instructed Sky Sports activities. "It was a implausible efficiency from us. Once we went 2-1 down, I believed we'd come again. I instructed them earlier than the sport to see how we're in these large video games. and I've a whole lot of it tonight so I am the happiest man on the planet.
"What we would lose from one other. [big] Groups is the expertise we've however nights like Hillel tonight; We get the expertise we'd like. when [my players] Be impartial on the soccer pitch by making choices with the steering we give, then we're a ruthless crew and that is what we acquired tonight. We now have a ruthless nature however we additionally acquired brains, maturity and progress from the crew and also you noticed that in our efficiency tonight.
Mark Skinner is happy! The United supervisor congratulates his victorious gamers and leads the cost on the invited supporters, blowing them kisses as he goes. His aspect had been good tonight, recovering from Arsenal's early second-half onslaught to dominate the ultimate quarter-hour and win the sport with two late targets. It is an enormous outcome for United, who sit second within the desk, degree on factors with Arsenal however behind them on objective distinction.
Full time: Arsenal 2-3 Manchester United
peep! peep! Peeeeeep! All of it ended on the Emirates Stadium, the place Manchester United gained in what turned out to be a thriller. Arsenal's 14-match WSL profitable streak has come to an abrupt finish in entrance of their very own followers.
90+8 minutes: Russo drives the ball towards the nook flag to run down the clock. She loses it, just for Viv Miedema to provide it to her. Katie McCabe is booked for a foul on Ella Toon. Arms substitute: Bethmead makes means for 16-year-old Michelle Agyemang.
90+7 minutes: Arsenal win a free kick about 40 yards from the United objective. United defended with a really excessive line and Bethmead's supply was cleared by a backpedaling defender.
90+5 minutes: Substitution of Weapons: Jonas Adewale sends Jennifer Beatty and throws her in entrance. Caitlin Ford was fired.
90+4 minutes: There's a break within the recreation as Steeds battle to pay money for a younger pitch attacker.
90+3 minutes: United regained the lead within the first seven minutes of additional time. Arsenal goalkeeper Manuela Zinberger pulled off her second sensational save in as many minutes, denying Martha Thomas, who had been an actual handful since approaching, moments earlier than Russia put them forward from the odd five-goal. Is.
Objective! Arsenal 2-3 Manchester United (Russia 90+1)
Surroundings! From Katie Zelm's very good nook, Alicia Russo rose to ship a header low into the underside nook. The place was the weapon signal?!?!?!
90 minutes: Get nearer to United now! Martha Thomas curls an excellent cross into the Arsenal field from the correct and Lucia Garcia connects. Zinsberger will get down to save lots of brilliantly however Garcia ought to have accomplished higher.
89 minutes: Beth Meade sends an outstanding cross into the United penalty space from the correct however Caitlin Ford shouldn't be in the correct place to move it house.
88 minutes: There may be nonetheless time for both aspect to discover a winner although drw might be a good outcome. Regardless of the outcome, United can be aggrieved to have been denied what was a transparent first-half offense due to McCabe's strike on Paris.
Objective! Arsenal 2-2 Manchester United (Turner 85)
United Equality! From the free-kick, Zelem despatched an excellent supply into the hall of uncertainty and Millie Turner headed house off the crossbar from about two yards out.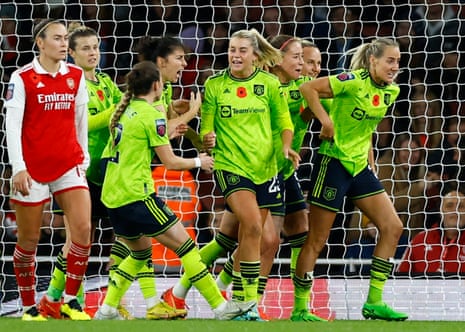 83 minutes: Manchester United are on the lookout for an equalizer from an Arsenal aspect that has been unrecognizable from the pale imitations of their first-half counterparts. They win a free-kick in a great place on the again of a Lotte Vaubin-Moye handball.
80 minutes: Manchester United substitute: Nikita was dropped earlier than Paris set off and retired from the bench in agony. Martha Thomas changed him. Paris is having a great recreation with Katie McCabe however her struggle has been so fierce that she is in critical hazard of selecting up one other reserving.
79 minutes: A cheeky, kamikaze excessive go from Manchester United's Katie Zellum in entrance of her personal objective sat properly for Beth Mead on the close to publish. She goes over the bar saving Zelam's embarrassment.
76 minutes: Already on a yellow card, Nikita Paris wreaked havoc with a candy however in the end honest "problem" on Bethmead. He had simply handed the ball and his tempo took it previous the Arsenal backline, sending it flying into the air.
Objective! Arsenal 2-1 Manchester United (Weinrueder 74)
Weapons have the higher hand! Laura Wienroither scored her first objective for Arsenal, curling an outstanding long-post volley on the tip of an outstanding cross from Katie McCabe. This can be a great objective!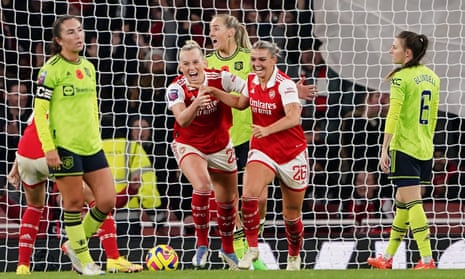 73 minutes: United assault down the within proper however Alicia Russo is pressured large and her cross is evident.
71 minutes: Manchester United Substitute: Leah Galton is taken off and changed by Lucia Garcia.
70 minutes: Now Manchester United winger Leah Galton goes to the bottom and goes to Halt to get therapy for the ache.
69 minutes: Mad is correct, it appears. restart. Ella Toon's flick again to Nikita Parris from the byline didn't regain his meant goal and a promising Manchester United assault broke down.
68 minutes: Beth Mead suffered a head damage after being by accident kneed within the head by Hannah Blundell. Referee Christy Doll stopped play so the England worldwide may obtain therapy.
64 minutes: Weapons development. Caitlin Ford will get the ball excessive up the pitch, large to the left. The Aussie cuts in and tries to unleash a roller in the direction of the far publish however his shot is blocked on the supply.
62 min: The ears are cleared on the soldier and the ball is tossed upwards in the direction of Ella Toon. After a interval of sustained strain, United gained a throw-in deep into Arsenal territory. It doesn't achieve something.
Emirates Attendance Hours: 40,064. It is not crap in any respect.
60 minutes: Mary Earps comes to gather the by ball and seems to injure herself on the touchdown. There's a break within the recreation as she is rehabilitating her proper knee.
59 minutes: Arms Substitution: Jordan Nobbs makes means for Vivian Medema.
56 minutes: Leah Galton dispossessed Freda Manam with a relatively good block sort out because the Arsenal midfielder tried to interrupt into the United penalty space from the correct.
54 minutes: Manchester United supervisor Mark Skinner has been sued for dissent after long-running complaints towards Nikita Parris about Caitlin Ford's foul which was not known as by the referee. He had some extent, because it was a reasonably crunching sort out that positively frayed the perimeters of the "man".
52 min: Ella Toon delivers the ball inside her personal half with a unfastened go. Blackstein leaps for Arsenal, will get the ball onto his proper foot and shoots excessive over the bar. Arsenal's gamers will need to have obtained a rocket from their supervisor Jonas Adelwal at half-time, as they started the second half with an depth and keenness that was conspicuous by its absence within the first.
50 minutes: Moments after the second kickoff, the Arsenal goalkeeper was bought quick from a again go however reacted rapidly sufficient to clear the ball and keep away from catastrophe. I feel it was Alicia Russo ready to pounce.
47 minutes: There was a substantial amount of luck concerning the tie however United's protection was surprising. Farida Manam was given on a regular basis on the planet to run unchallenged in protection and took a shot from the sting of the penalty space. The ball took a depraved deflection off Maya Le Tissier, who bounced by the air and over the top of goalkeeper Marie Earps earlier than crashing below the crossbar. It's aqll sq. in Emirates.
Objective! Arsenal 1-1 Manchester United (Manam 46)
Equal weapons! My phrase, they do not look weak anymore!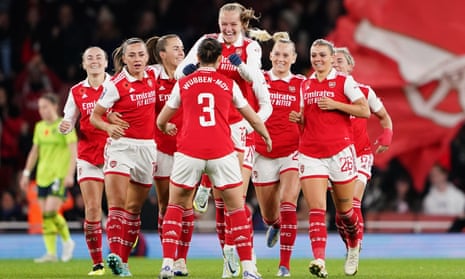 Second Half: Arsenal 0-1 Manchester United
46 minutes: United carried the ball ahead within the second half with no modifications to both aspect after the break. Arsenal had only one shot on objective within the first half and regarded decidedly underpowered.
Half time: Arsenal 0-1 Manchester United
peep! Christy Doll ends the primary half as Manchester United take a shock lead. It is no more than they deserve they usually might really feel unhappy for not being additional alongside. Manchester United ought to have been awarded a penalty for Katie McCabe's foul on Nikita Paris shortly after Ella Toon capitalized on Zinberger's mistake to go one up.
45 minutes: It is an thrilling battle and at this level Nikita Paris, who's profitable it, will get the higher of Kate McCabe on the correct and sends a cross deep into the Arsenal penalty space. Zinberger comes for the ball, catches it, then drops it earlier than catching it along with his chest on the second try. The Austrian goalkeeper has not had a greater recreation.
44 minutes: Maybe sad to not obtain this penalty, Nikita Paris is booked for a robust problem on Katie McCabe. Bethmead takes a free kick from a large place on the left however his supply is atrocious. She raises an apologetic hand to her teammate.
42 minutes: Manchester United had an inexpensive penalty shout rejected by Katie McCabe for tripping Nikita Paris within the Arsenal penalty space. I have not seen him in current weeks within the Premier League. To me, Clive, it's definitely a punishment. A reminder that there isn't a VAR overseeing this recreation.
40 minutes: Her mobility could also be restricted by an damage she beforehand suffered, however Manuela Zinberger has had a blast there. She is available in to punch in a cross from the correct, misses the ball fully and Ella Toon is in the correct place on the proper time to volley house from about seven yards.